Round One: Transitional
Ayoooo!!! My last two posts have been… heavy. My mom asked me the other day, "so… like, are you gonna put funny stuff on your blog or just… emotional stuff?" HA! I take that as feedback on needing a change of pace. You have been heard! And I am here to please.
So, I took myself on a nice, little stroll down the aisles of one of my favorite stores and perused their fall clothing that just hit the racks. And lemme tell you, it was a GOLD MINE. Target is freaking killing it with their fall fashion this year, y'all, and from what I've heard, it's just the beginning. So, expect more to come! Bonus: every single outfit on this post is under $100, with most being under $80! Get to shopping, ma ladies!
Look One: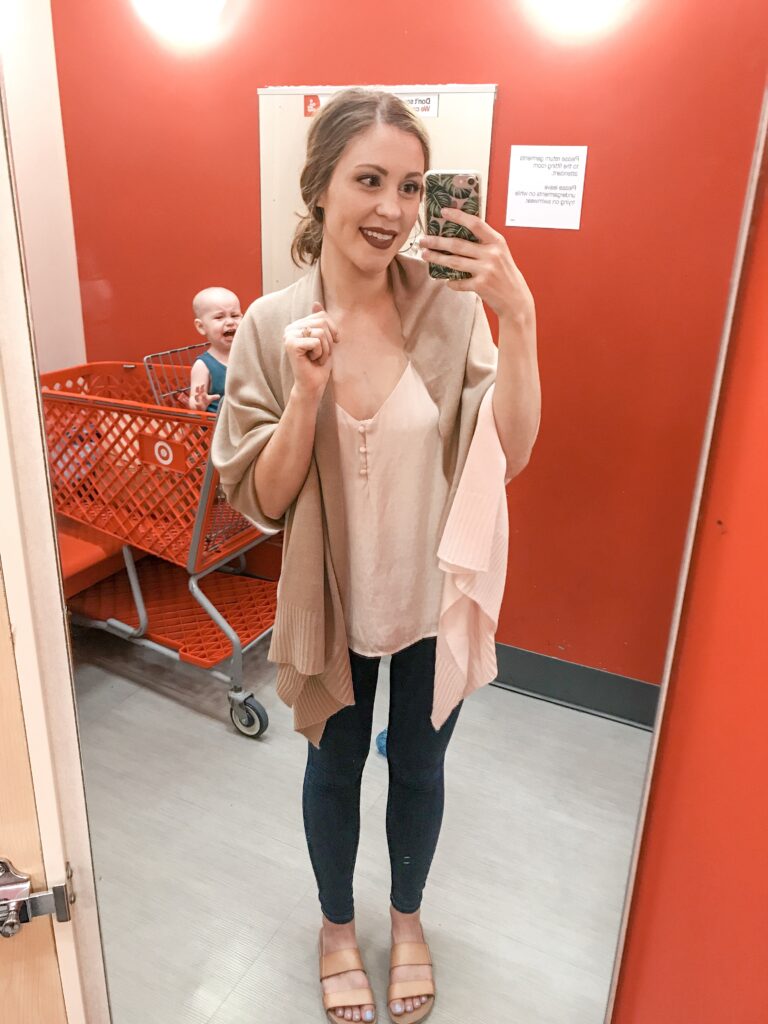 First up on the list is this adorable blush, satin cami (only $17.99!!!!) paired with an equally cute camel and blush shawl. This outfit is perfect for those southern fall days where the weather can't decide what it wants to be. One minute it's a brisk 65 degrees and the next it's 78 and sunny. This allows you to transition easily without wearing atonafreakinglayers.
Look Two: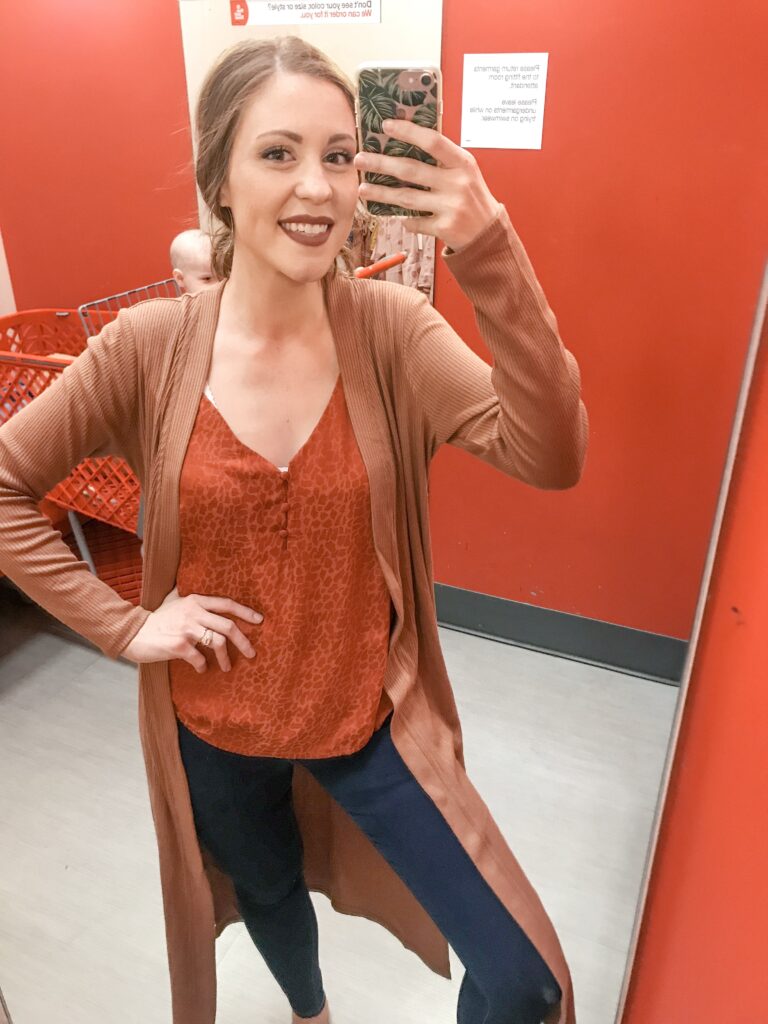 I'm gonna be honest. Burnt Orange is THE color of Fall 2019 and I'm here for it (aka you will see a lot of it in this post #sorrynotsorry). Jesse didn't like this one as much, and I can see why, but honestly? It's my second favorite. I love two-toned looks and this cardigan is so versatile. It can be paired with so.many.colors. Plus, the subtle leopard print on this top to die for. (Also, animal print is expected to be huge this season! It's a win-win! BUY IT.)
Look Three:
Ahhhh, yes. The infamous jumpsuit. I am not someone who has a body made for jumpsuits. It hits me in all the wrong places, and I look like a try-hard with a giant wedgie in their crotch. I see this, and I think I look like a cross between a confused prisoner and Anne of Green Gables (if you don't get it, we can't be friends). Alas, I know many of you are fans of jumpsuits, it was $30, and it was super comfy (y'all it's like hecka breathable and stretchy and soft…) so I sacrificed my dignity and put it on here for you all anyways. YOU'RE WELCOME.
Look Four: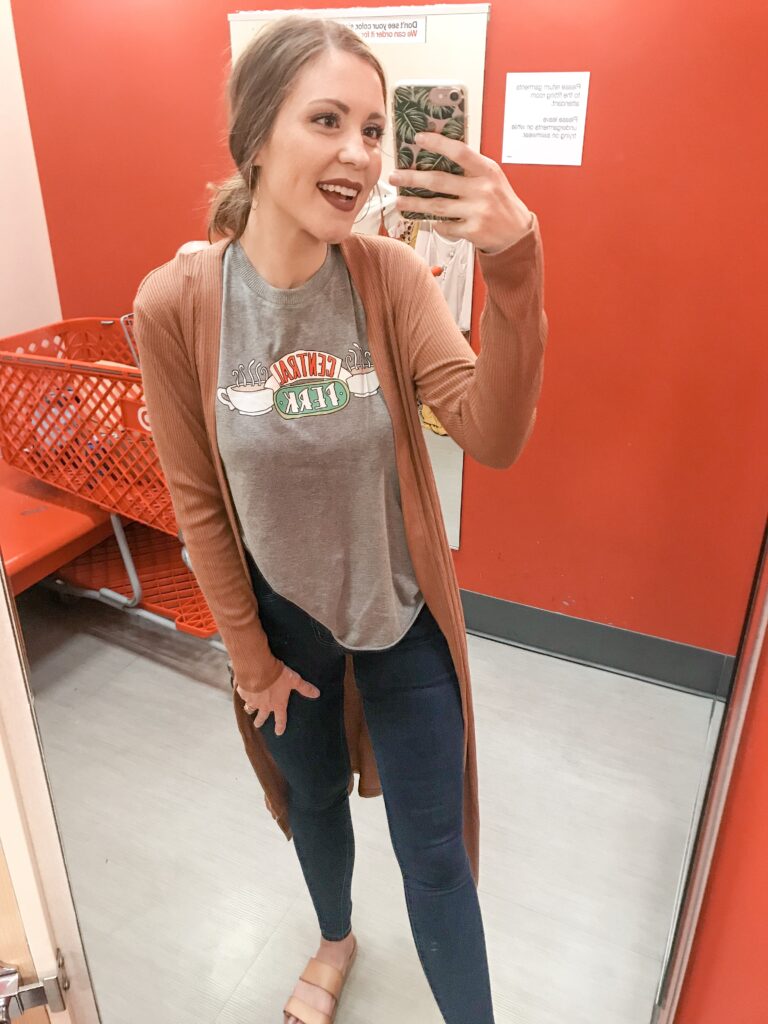 Okurrr this is my favorite look ever! Tell me it isn't cute, I dare you. And get this: the entire ensemble is under $60.00!! This cute f.r.i.e.n.d.s. sleeveless tee is perfect paired with this cardigan. It's awesome when you want a relaxed but put together look to go shopping on a Saturday or go anywhere 'cause I mean, any time is appropriate for a f.r.i.e.n.d.s. reference.
Look Five: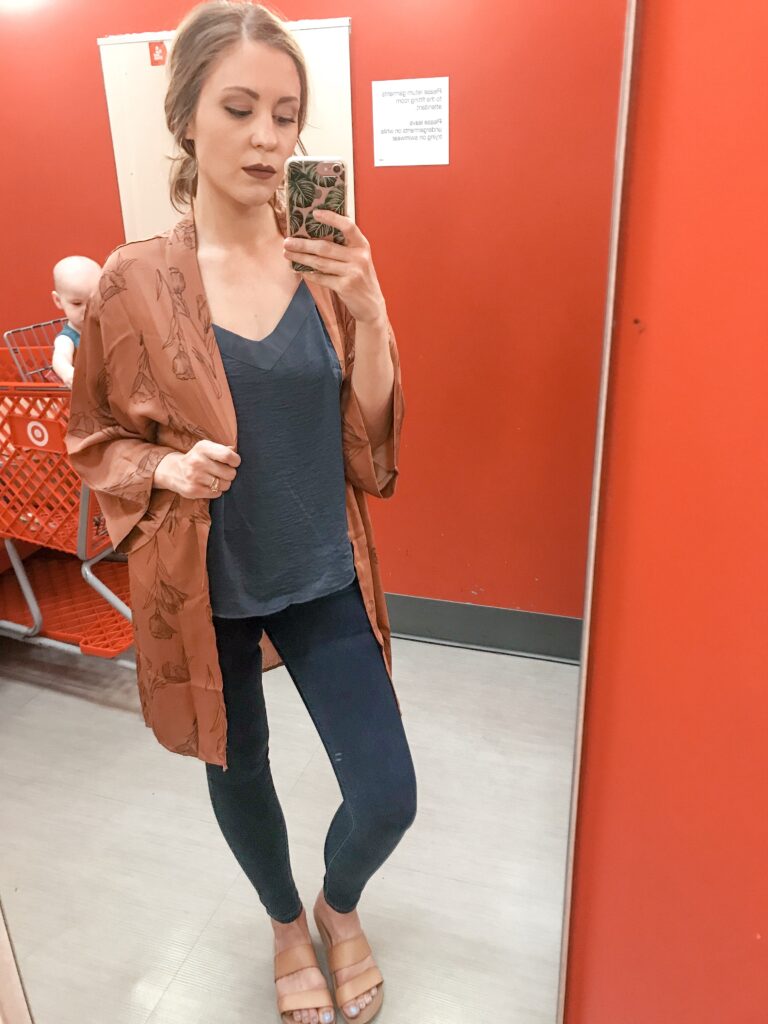 Last, but certainly not least, is another adorable, satin cami paired with a "komodo dragon". I don't even know what to call this gorgeous blue color. It's like a deep robin's egg; almost teal but not quite. It's got so much depth to it and it's just yummy. Especially paired with burnt orange. The contrast is just bonkers. (*side note: I couldn't find the original kimono color online so I linked the next closest color from the same brand and style).
Jeans are linked here, and earrings are linked here.
Alright, y'all, that's it for now! Tell me which one was your favorite in the comments! And can anyone guess what I bought from this lot? I'll style these looks in the future once it's not the devil's armpit outside!!
Much love,

Bex