I try really, REALLY hard not to go overboard on Christmas presents but somehow every year, I do.
Each family has different needs so you need to find what works best for you. For us, though, we have decided Santa only brings one fairly inexpensive gift ($20 or so). My greatest fear is that my child will go to school and brag about all of the toys Santa brought him and a child less fortunate might feel like they are somehow not "good enough" to have gotten the same thing. Since the story of Santa is based off naughty vs nice, a lot of kids rightfully think that Santa presents represent worthiness.
Our mutual agreement is to not make a huge deal out of Santa, which is why he brings only one inexpensive present. What we are doing right now is: one Santa present per child, a group (sibling) present, and gifts for each child from family + stockings. I use the Notes App on my phone to keep track of presents that we've gotten for each child because it can get so confusing.
Each child gets a "big gift" from mom + dad, plus a couple of other things they really want, need or like. I'm trying so hard to minimize toys in our house because they just don't work well for us. B needs so much physical play! He has a couple of toys he loves, but other than that, so many get played with for only a few minutes before he gets bored. We take him outside or to a trampoline park and he can go for hours. I also get so sick of toy clutter- it's seriously triggering! Because of this, I'm trying to transition us away from standard toys to physical play toys.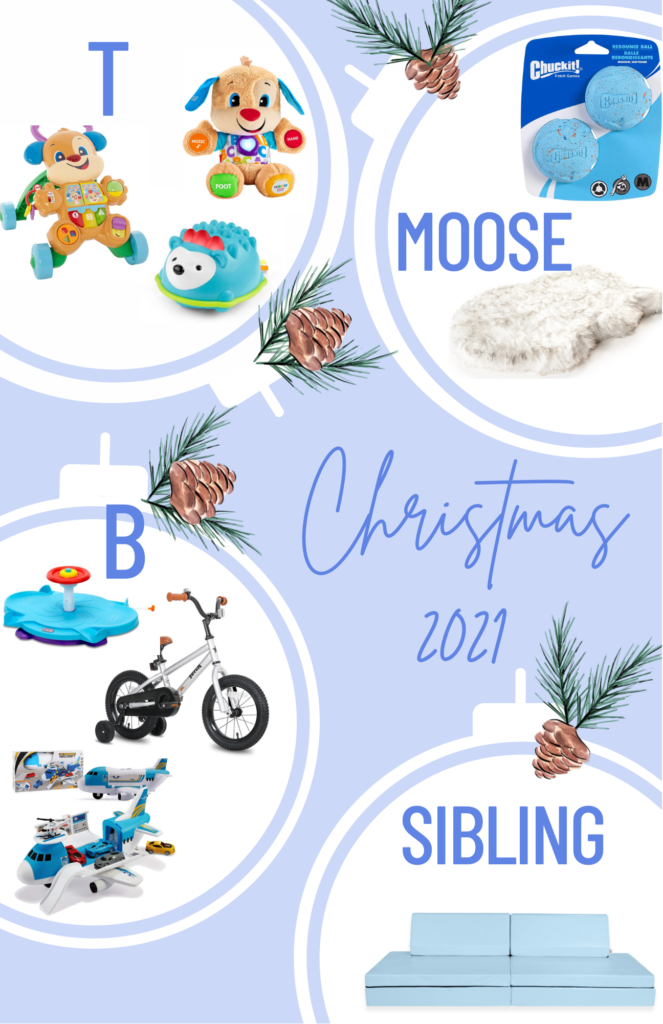 T's big present is the walker. This walker was gifted to us by my Aunt originally for B. As you can guess, my destructive child tore it up, so we need to purchase another. But he loved this and it was ultimately how he learned to walk. T seems to be super interested in music and sounds, and he's almost at the point where he can sit unassisted. I figured he could play with the buttons and will grow into the walking portion.
B's big present this year is the pedal bike. I really wanted him to have the Foamnasium couch as his present, but Jesse really wanted the bike. I wasn't going to get both (holy expensive) until a couple of weeks ago when I reached my breaking point. B was taking all of the pillows off the couch and jumping off the couch, making forts, etc. I'm like, "this child needs his own stuff before he completely destroys my furniture."
Moose's big present this year is his dog bed/mat. We used to let him up on the couch but it was just getting so dirty from his shedding that we had to stop. We were vacuuming it like 3x a day! I got him this mat that I stumbled across at Costco so he could still be comfortable on the floor.
Let me know in the comments what you're getting your kids this year!