In honor of Baby T being 2 months old, I'm sharing our family newborn photos that we took at our favorite local beach. Our photographer, Nicole, was absolutely amazing. She put up with all of our craziness (bless her!) and 90 degree heat.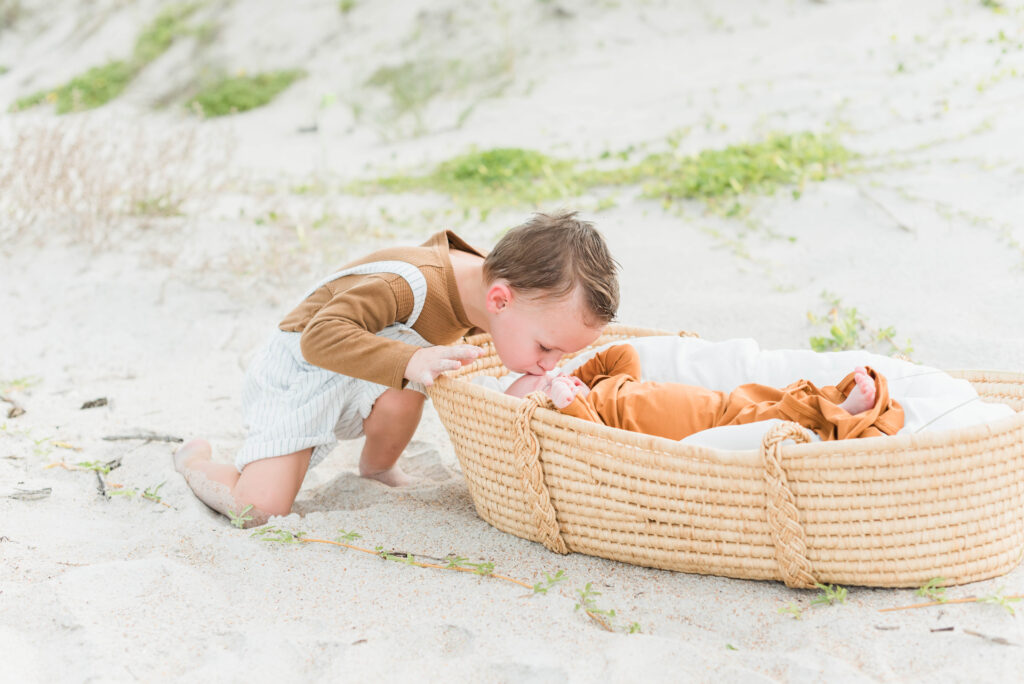 Our entire family loves the beach (especially B and Moose), so we felt it was fitting that we took photos in a place that means a lot to us. Because we love the beach so much, T's room is actually California/Hawaii Surf themed! I'll eventually share photos of his nursery (once it's finished!). We actually took T to the beach for the first time when he was just a couple of weeks old. He was bawling his eyes out until we set him in our baby tent. Then he passed out the entire time. So we went home that night and got his sound machine set up loudly on a waves sound. He absolutely loves it. It's safe to say we have another beach babe, and we are excited to take him once he gets a bit older.
Moose and B only made it about 15 minutes before they took off in the waves. Then B sat down in the water and got us soaking wet. The rest of the session was spent in clothes that were totally trashed but it made for some wonderfully natural photos. I mean, it's B in his natural and totally wild habitat, and I'm glad we caught that.
A huge shoutout to Nicole, who was able to capture such great shots, especially with so many moving parts. Moose was quite naughty during this session, and y'all know B's history with photoshoots. It speaks to her talent that she was able to get wonderful photos that we will cherish. If you're in the Jacksonville area, please consider her for your next family photos!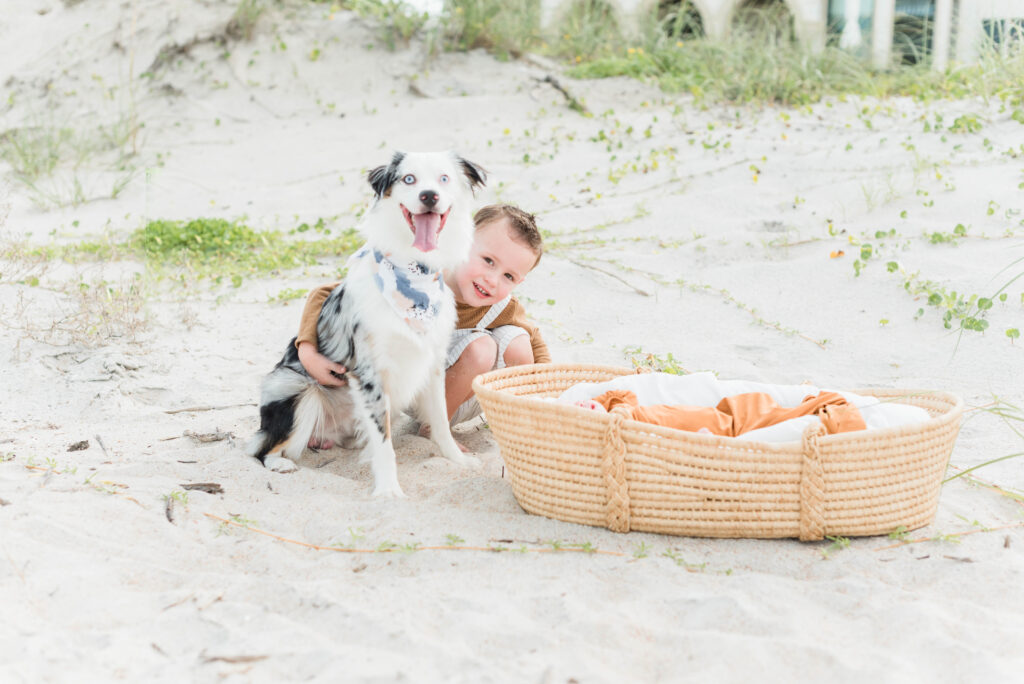 T is such a good baby. He didn't make a peep the entire session, despite getting sand dumped on his head (thanks, B) and getting wet from all of the splashing and general craziness! We took these photos at golden hour in hopes we would get a wonderful sunset and cooler weather but the Florida heat laughed at us and said, "you wish!". Thankfully, we didn't get rained out so I'll take sweating my lady bits off in exchange for clear skies.
I actually built our outfits around Moose's bandana- which had two different tones of dusty blue (a periwinkle and darker, dusty blue), plus peach and mustard colors in it. I really wanted to stay true to a natural theme that you find most families wearing for their beach photos, without doing the monotonous, standard blue and white outfits. I really liked the contrast of the mustard to the periwinkle and felt like it gave a little twist on what you usually see.
I'm actually pretty obsessed with how these outfits turned out. I feel like picking outfits for photos is by far the hardest part, and I definitely stressed over this for weeks. You want things to blend and coordinate without being too matchy or too busy. It's such a delicate feat, especially as you add more people into the mix. I really wanted the boys to coordinate, and I came so close to putting T in a dusty blue knotted gown! At the end of the day, I wanted the boys to stand out against the color of mine and Jesse's outfits, and I'm really happy with how everything turned out on film.
If you're struggling to put together family outfits, I highly suggest buying the Morpholio app! (Or doing their free trial). I use this app a lot for the blog (such as my gift guides), but it also comes in handy when you need to see things all together. I actually used it to coordinate our Christmas outfits as well, and I use it to decorate my house (such as putting together T's nursery). It allows a lot of editing on photos to overlay, whiten backgrounds, etc, so it really is wonderful. (Not an #ad, just some love for my favorite app).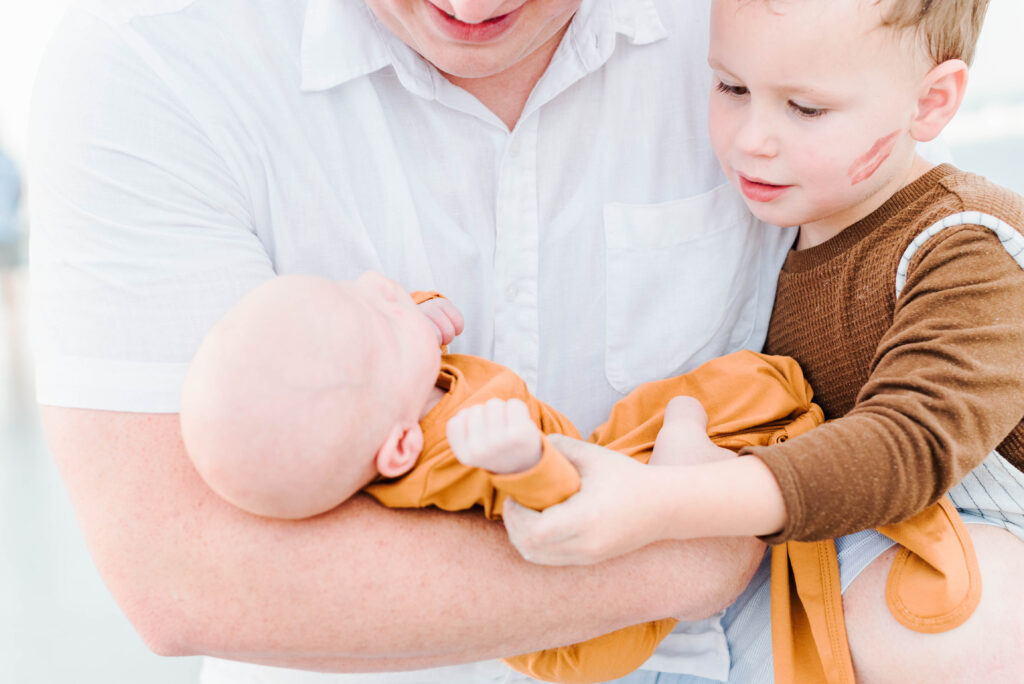 This lipstick print on B's face happened when Nicole asked me to kiss him for a photo and it ended up transferring. Instead of trying to get it off, we ended up just rolling with it. I'm so glad we did because I think it ended up "making" some of these photos by stealing the show. It's just so precious to see children that are loved. Looking at these photos, I can't help but smile at how much fun we had taking them.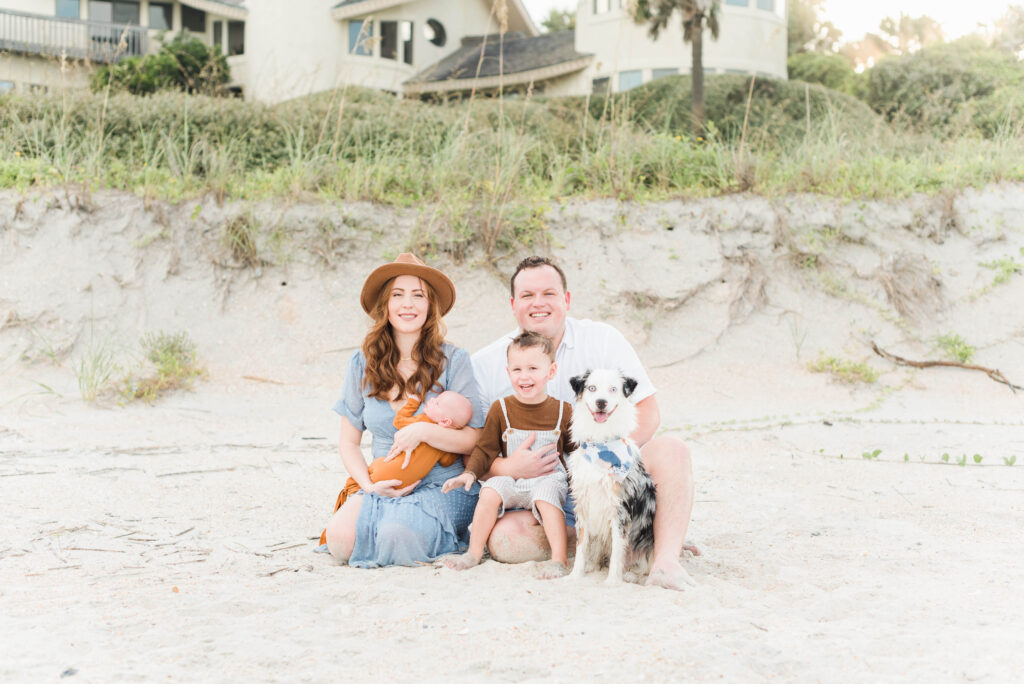 It's funny how things work out. I've previously shared on T's birth story that all of my boys (yes, that includes Moose!), are July babies. But T and B were both born on the first Friday in July, and T was born 10 days early while B was born 10 days late. It just so happens that both T and B's newborn photos were taken when they were both 7 weeks old as well! B cried during his photos and basically refused to sleep (which we should've seen as a sign for what was to come… that child was by far one of the worst sleepers on the planet!).
It's so cute to see how well all of our boys fit together. They all have wildly different personalities. B is what we like to call "feral". His emotions are either extremely happy (read: out of control) or extremely upset (and once he gets on that hamster wheel, you just say your prayers and ride the wave til he decides its over). Moose can play practically all day long with B, which we love, and he puts up with how crazy and physical B is. But he's also the sweetest pup, and he's protective of his brothers. He's the medium in the family, which I love! T, on the other hand, is extremely chill, and snuggly (and a decent sleeper so far, thank you Lord!). It's safe to say we have a spectrum in this family, and while our house is a complete sh*t show half the time, I truly wouldn't have it any other way. These boys have my entire heart.
Growing up, I was surrounded by women completely, and I had always wanted girls. I think it's partly because I am so girly, and also that I was so intimidated by the idea of having boys, having never been around them. I felt like I would have no idea how to be a boy mom, and I knew nothing about that process. My sister even went on to have 3 girls, so I felt like I had no one to go to for solid advice.
I'm a firm believer that everything happens for a reason, and that everything also has a way of working itself out. Looking back now, it's hard for me to picture not being a boy mom, and honestly? I'm not sure I could ever be a girl mom, although I would love it. These boys are absolutely perfect, and there's no doubt in our mind that they belong in our family. They all came at the perfect time as well. I won't lie, most days are hard (B is still a difficult child and he's constantly getting into everything). As I look at T and Moose snoozing next to each other on the couch, I can't help but feel enormous gratitude for how blessed we are.
I actually stumbled across these poses on Pinterest, when I was looking at other family beach photos to try to get some inspiration for ours. I didn't want all of our photos to just be us standing, and I'm so glad I found a couple that we could re-create. Getting on the boys' level really made these shots special, even though my dress was soaking wet, so all the sand stuck to it. It's totally trashed and needs a good dry cleaning, haha! We ALL got showers/baths after this beach trip. I'm pretty sure I'll find grains of sand in the most random places of our house for the next 6 months!
Alright, this post is getting out of control. It was so hard to choose because Nicole got so many photos, and she did such a phenomenal job! We walked away with so many incredible photos, which are priceless. I always tell Jesse that we need just one good shot to make it worth it, but Nicole truly went over and beyond. I'm going to have a beast of a time trying to choose my favorites for our gallery wall. I already struggled narrowing them down for this post!
Thank you, as always, for your endless love and support. I love blogging and sharing our lives with y'all. I hope more than anything that this blog truly helps women who need their village; especially mamas of hard children. Life is never perfect, and it's often very hard (and I hope that is reflected in my posts, which I strive to keep brutally honest). I hope this minuscule corner of the internet provides a safe and comforting space for all of my readers.