With only 2.5 weeks left until Christmas, I thought I would squeeze another gift guide in here for those of you struggling to find the perfect gift for mamas!
Great gifts are thoughtful but also useful. But it's so hard to distinguish what is really necessary and wanted for new mamas, because we are often in survival mode and honestly? We have to figure out who we are again. Who I was pre-baby is totally different than who I am as a mama. I've had to abandon some hobbies, learn to pick up others, and what I wear is based on how easy it is to breastfeed in. Before I had a child, I had no idea just how busy I would be and how much this would change my life; literally every part of it. I'm a totally different person now!
Each item on this list was carefully selected with mamas in mind, from a mama herself! Each of these gifts either make your life easier or better in some way, because convenience and normalcy are two important parts of being brand new mama!
P.S. I still use all of these things daily, as a mama of an almost 18 month old!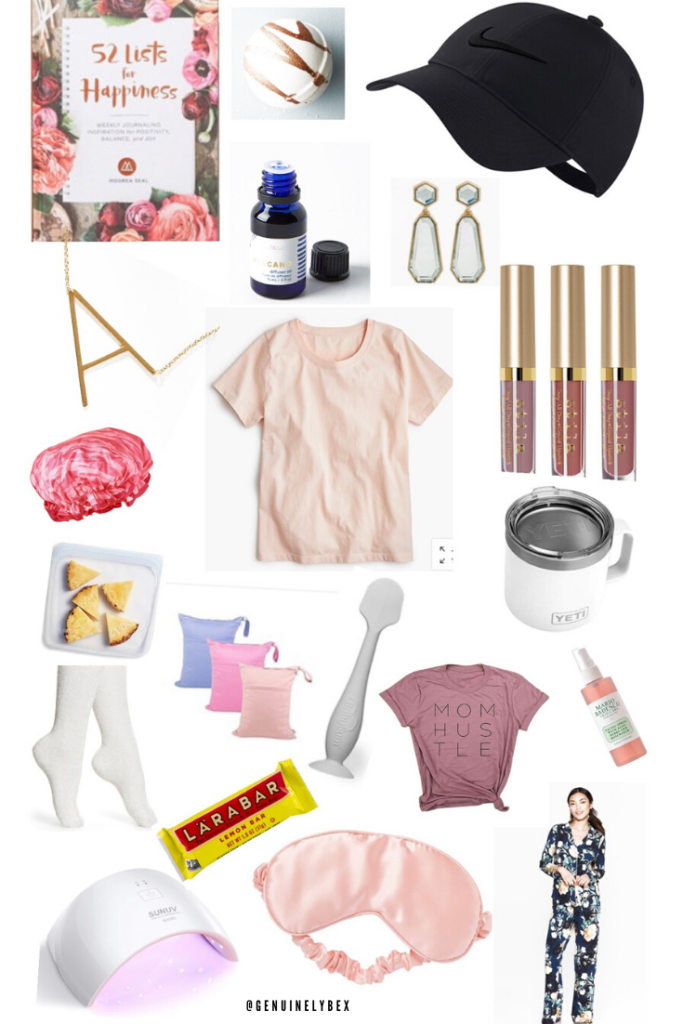 For those "day four dry shampoo" moments (which will happen way more than you'll like to admit). This way you can look fashionable, and hide that mess when you're out running errands! Extra bonus: it will also help hide those postpartum hair loss bald spots!
Self care is SOOO important once you give birth. Be kind to yourself, and enjoy a peaceful bath in solitude while the baby is sleeping.
As mentioned at the beginning of this post, you're a completely different person after becoming a mama. It can be difficult at times, navigating your new life. What do you enjoy? What do you love? What do you hate? What makes you happy? This book can help you re-prioritize your life to find the path to new, lasting happiness as a mama.
Definitely a splurge at $40! But how exciting would it be to sport your new baby's initial proudly around your neck? So cute!
Yes, this is THE Capri Blue volcano scent, as made popular in those yummy candles at Anthro. But now you can buy it in an essential oil form made for diffusing so your house can smell amazing all day, every day. This scent is so calming and sweet; it'll make you feel like your home is clean; especially as you stare at the growing pile of laundry and dishes.
I could write a dissertation about my love for this tee-shirt. It comes in so many amazing colors; it's soft, it's thick (but not too heavy!) and it's not see-through. Best of all- it can be dressed up with skinny jeans and heels for date night (or even crops if you're a working mama!) or you can wear it with pajama pants and feel your best. It's fitted but it won't cling to all the wrong places (aka the mama pooch!) and it's just the right weight.
To go with your J Crew shirt above on your fun date night (if you're ever able to reconcile leaving your perfect little babe!). But sometimes, we just need to put on some fancy earrings to feel better! These are a steal at less than $10!
I love Stila's liquid lipsticks. I have three colors I use on rotation (one of which is in this set!) and they are great for long-lasting wear. AKA you can wear this and confidently kiss your baby without leaving lipstick prints all over their face (which is super important- I wanna kiss my baby!). Throw these in your diaper bag to use whenever you need a subtle color to umph up your look.
You'll definitely be taking lots of showers in the beginning. From that icky post birth bleeding, to spit up, to leaking fountain boobs and everything in-between, you'll have lots of bodily fluids on you. You won't have time to fully shower every single time, so stick this on your head to protect your hair while you get a quick rinse down.
Lots of mamas need their jiggle juice to get them going in the morning. What you'll quickly realize is that you'll pour yourself a cup, totally forget about it and it will sit there for hours (possibly days!) before you get around to drinking it! This Yeti cup will make sure that your cup of joe (or tea… or hot chocolate!) stays warm until you have a moment to yourself. It's the simple things in life.
Good nutrition is so important always, but especially as you recover postpartum. These bags are environmentally friendly, microwavable and can be cleaned in the dishwasher! Awesome, right? Use it to carry snacks (cold, warm or anything) for you or baby! Stick it in your diaper bag and you're ready to go!
You'll be spending a lot of time at home those first few weeks, and some of you may decide to stay home with baby full time! You'll want a pair of soft and warm socks for those middle of the night feedings and lazy days around the house. They are perfect to lounge in!
You will be surprised at the amount of clothing mishaps you'll come across! This wet bag is perfect for when you're out and about when all of a sudden, baby has a blow out or spits up all that formula she drank an hour ago. They are machine washable too!
Longtime blog readers will know this is one of my holy grail baby products. I even featured it on my Top 10 Baby Products blog post because I love it so much! This handy little tool helps you apply that diaper cream without having to get your hands dirty. It applies it thick, smooth and in ONE swipe! It's made of soft silicone and it even has a suction cup on the bottom of it, so you can stick it to whatever surface you need to, without it tipping over.
How cute is this shirt for when you're out running errands? Combine this with the Anthropologie Initial Necklace and you will be the hottest mama in Target!
Yeah, you're going to be losing a lot of sleep and sometimes jiggle juice won't cut it. This facial spray is nourishing for your skin, and will rejuvenate you when you need the extra boost.
I love Larabars! They have a bunch of incredible flavors but lemon is my favorite, hands down. And believe me, when I say they taste amazing, they really do. I promise I'm not lying! They are also gluten, soy and dairy free. Perfect for those of you on restrictive diets looking for something nutritious, easy, and delicious.
You'll be sleeping at odd hours of the day, just desperately trying to get a lil' shut eye in, and these masks will definitely come in handy! There's nothing worse than being exhausted at noon but not being able to fall asleep because the sun is right in your eyes. Your sleep is precious during the newborn stage, and you'll want to sleep as much as you can!
There's nothing better than fresh, un-chipped nail polish, amiright? Had I stumbled across this item before this, I would've put it on my gift guide for her under $25. But I found this the other day and fell in love with it so I had to include it here! Once you're a mama, it will be hard for you to find the time to get your nails done. Again, self care needs to be a priority, but when you're breastfeeding or you have a fussy baby, going to a nail salon for a couple hours is….daunting and out of reach. This nail dryer lets you give yourself those manis from the comfort of your own home while the baby is sleeping! It will pay for itself after just one use, and it will give you that little taste of normalcy you're desperately missing.
I'm a firm believer that we all need a gorgeous sleep set. Especially as you recover from birth! You can get depressed really quickly when you feel like you're in ugly sweatpants, covered in spit up. Just having something pretty to wear, that's light and forgiving, will make the WORLD of a difference for you in those first few months. You will have days you won't make it out of your pajamas. But when you eventually pass the mirror, you'll stare in a good way.