It's officially the holiday season and I'm just so freaking excited! This time of the year is so magical, and it's even more fun now that we have a little one. I can't wait to take B to see the lights. He's already had hot chocolate and he LOVED it. We literally had to take it away from him, ha!
This has been my most requested post after I polled y'all on Instagram and I'm so excited to finally share it with you! It can be hard sooo to find quality presents under $25! The struggle is real. But have no fear, because Bex has done the heavy-lifting for you this holiday season.
I put together this list of incredible gifts (like seriously, you won't believe it) under $25 so you can stay in budget but still blow people away this Christmas! Or Hanukah. Or Kwanza.
Put your comfy joggers on, crack open a diet coke (again, ewww), and get that debit card ready. We're going shopping!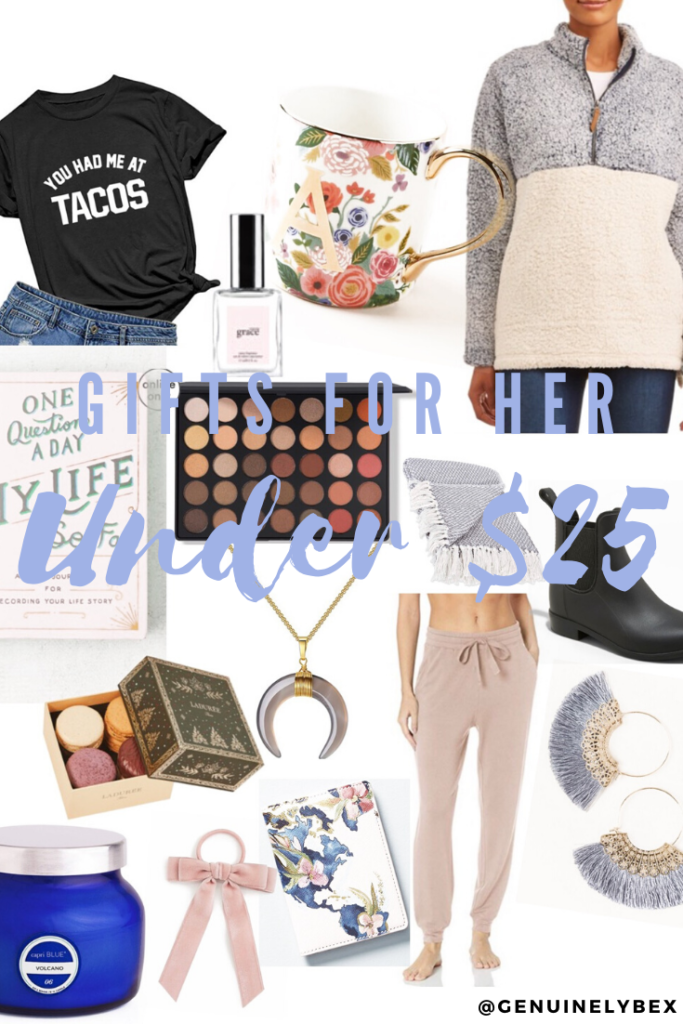 Purchase the macarons here.
Awesome, right? None of these products look like they are under $25 which makes it even better! Budgets are so important to follow during the holiday season (it's crazy easy to over spend) but these products will fit into any budget! In fact, you can even combine a couple of these products so you can get two great things to create the ultimate gift for your loved ones:
"You Had Me At Tacos" shirt + Blanket
Sherpa + Blanket
Hair Tie + "You Had Me At Tacos" shirt
"One Question A Day" Journal + Hair Tie
What gifts are you most excited to purchase? What was your favorite from this list? Anything you wish you had seen? I can't wait to hear what you snag!
Update: I was able to find the velvet JCrew hair tie on their factory website for cheaper!