+ tips for thinning hair and bald spots
Y'ALL. They warned me. But I didn't listen. And now I'm here with bald spots all over my head and I'm about ready to have a 2007 Britney Spears moment and shave it all off (and before anyone loses their mind on me, I am not making fun of her whatsoever. I have legitimately gotten to that point and had to talk myself out of it #postpartumdepressionprobs).
If any of you have dealt with this too, chances are, you've thought about taking an electric razor to your head, too. But before you do that, hear me out. I have some tips to help mitigate #hairgate. Grab yourself a diet coke (whyyyyy do y'all like drinking that carbonated water?!) and head to your bathroom. It's time to go from Mia Thermopolis to Princess Amelia Mignonette Grimaldi Thermopolis Renaldo (whew, say that three times fast I dare ya) Also, get comfy in that bathroom of yours cause this is gonna be a long post!
Hair Styles for the Win:
It's a good thing hair accessories of every kind are totally in right now. I never thought I would live in a time to see Blair Waldorf's headbands become a fashion statement but here we are, and I can't be mad about it.
Between those, the hair scarves and the fedoras; it's safe to say you have so many options to choose from, outfit permitting. Here's a photo of me with hair up…those bald spots though! YIKES.
I wasn't kidding! It's BAD. I'm sure some of y'all choked on your diet cokes and that's okay 'cause I'm all about being honest and open. Just do me a favor and quickly scroll past those bald spot photos cause it's not a proud moment!!!
And here's my hair with a fun hair scarf:
See how much better it looks? You can barely see my bald spots! It also takes your outfit up a notch and I'm all about looking put together. Call me crazy, but it's in the details. Accessories make or break an outfit, so use this as your chance to really bring your outfit from "good" to "wow! i loveeee that" and divert people's eyes away from the spots that make you self-conscious.
You can also wear hats! That's an obvious one and it's currently summer, so I opted for a baseball hat. But this goes for all year! You can wear sunhats, fedoras for transitional seasons, and beanies during the winter. Hats are the easiest way to hide bald spots/thin hair because you barely have to style it. Slap the hat on and you're good to go! But you see how my hair looks so much fuller under the hat? Yeah, they are magic like that!
Wear your hair down:
(and for the love, stop putting it in ponies and #mombuns!)
PP hair loss mainly happens at the crown of ya head. Meaning, when you pull it back, tight and up high, you're gone' see a lotttt of thinning. Plus, pulling it back like that can cause way more breakage which leads to more thinning. STOP IT NOW. I know how easy it is to throw it up there, and how much your baby loves to pull your hair when it's down. I get the struggle. But you can put it in a low, loose pony and not look like a construction worker, I promise. Wearing it down makes it look fuller and can hide the bald spots, since they are typically only seen when the hair is pulled back.
Curls help with volume which makes it look fuller (try heat free rollers to give you some bounce and body!)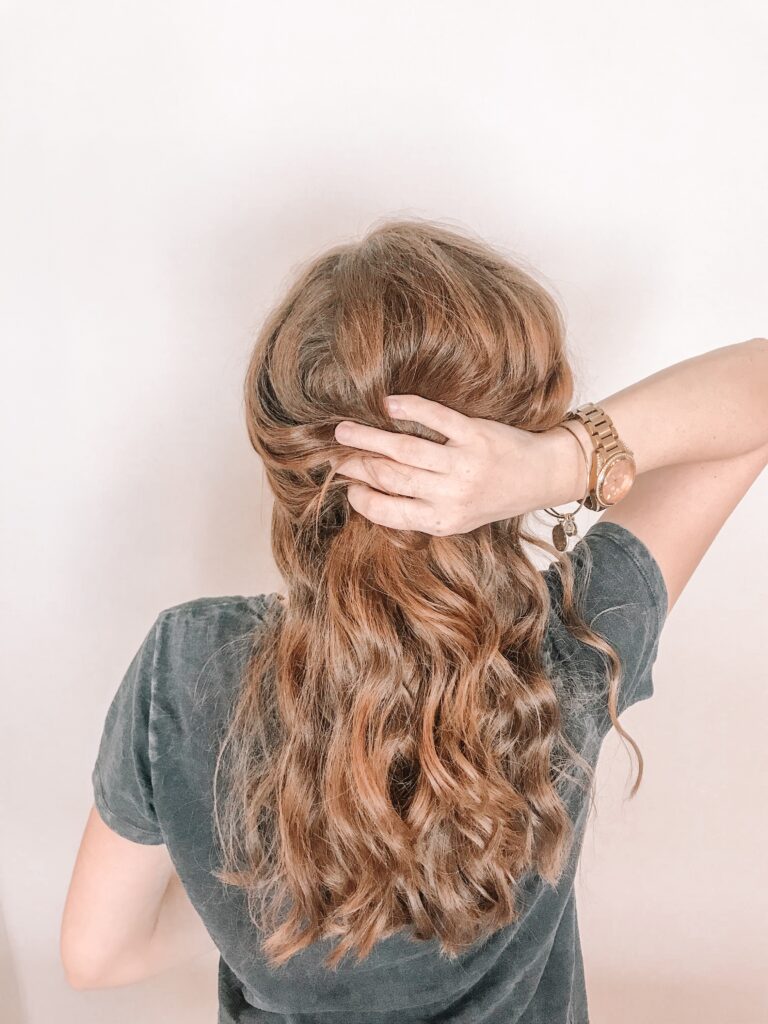 Other Tips:
What if you aren't an accessory person or any other random reason why those won't work for you? You'll definitely need a better solution than just hiding behind accessories and praying for the hair fairies to grant your wish to grow it out over night. I'm here to tell ya, it's gonna take a longgggg freakin time to grow back in, and it's gonna look all wonky. Baby hairs gone' be stickin up everywhere. You're gonna look like a hot mess.
The best thing you can do is get your hair cut to a healthy length. Give it a good chop and let it do its thanggg.
"But Bex! That won't help hide the bald spots I have now! What do I do about those?!!!!" You are right. It won't. But it will give you a fresh slate to start on, which is always great. You want to grow out healthy hair, not a bunch of baby hairs and split ends! And while we're at it, make sure you're using salon quality shampoo and conditioner (aka paraben and sulfate free, ladies!!!). Okurrr, enough with my rant. Moving on. Here are a few tips to *actually* conceal bald spots (and not just hide them):
+ Heat is not your friend! Air dry, put product in your hair and *sing it with me* let it go!
+ Use a colored dry shampoo to literally cover up baldspots (think of it as makeup for your scalp?) If it's not a thing, it is now!
+ Extensions can also help with filling in gaps (but be careful with anything but clipins- they can also cause damage. Wear them wisely!) Barefoot Blonde has a great quality line (although they are severely lacking in the redhead spectrum).
+ If all else (and I mean all else fails), you can tease it to "fake" more volume (but this can really damage your hair. The bigger the hair, the closer you are to a $350 salon appointment (not Jesus), y'all.
+ Get some highlights (lighter hair = less appearance of bald spots) but don't ask for platinum and stay away from bleach!!!
+ The two B's: bangs and blowouts (no, not that kind of blowout! The brazilian kind! AKA the good kind!)
Okay, ladies, that's all I have for now! Sorry, this wasn't supposed to be so long but I wanted to make sure I had y'all covered with plenty of ideas to help you out. A lot of times, our hair is our identity and seeing those massive clumps come out is not only terrifying, but a shot to our already low post-baby body confidence. I sincerely hoped this post helped! Have any of you tried these tips? Let me know what works for you!
Much love,
Bex