This has been one of my most highly requested blog posts and I am so excited to finally share it with y'all! Every family has completely different dynamics, so not all of these products may apply to your situation, but these are our tried and true absolute hands-down favorite products to use for B, that will hopefully make your life a little bit easier (or at least more manage-able?).
Absolutely none of these products are sponsored whatsoever. This is not an advertisement. This is truly from the bottom of my heart, my favorite products I have found to have worked for us, and I want to share it all with you in the hopes that it will help you too!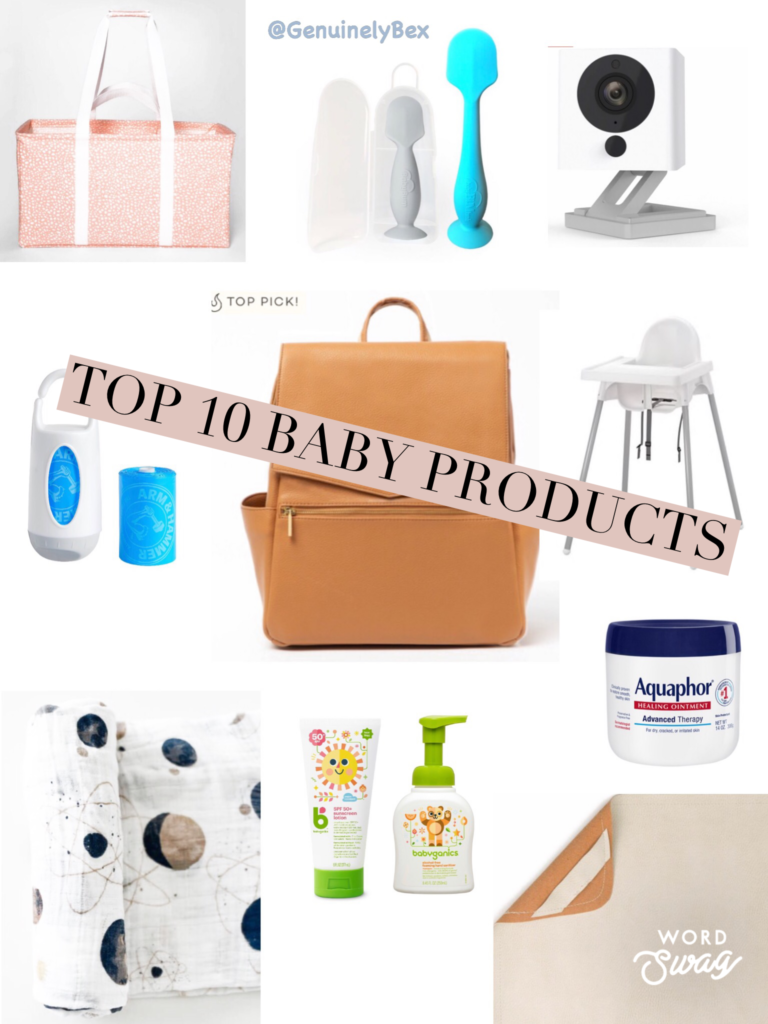 1. Freshly Picked Diaper Bag
Okay, I researched long and hard into a diaper bag that would be long-lasting, fashionable yet functional, and fit all of our needs without feeling like I'm carrying around a suitcase (but act like one if I need it to!) PLUS I wanted something that would be able to work for me if I had more than one kid in diapers at the same time. This bag is the holy grail of bags. First, it's vegan leather and super easy to clean (just give it a quick wipe!). It comes with a matching, portable diaper changing pad so you don't have to buy one separately (and a convenient section where it's stored). It also has two wide pockets on either side of the bag, which will fit my husband's 32 oz Hydroflask! A top handle for easy pickup was a must for me as well, because I knew my hands would be full at times. It is backpack style (which was something I wouldn't budge on), but it also comes with a strap to convert it to crossbody, if you prefer that.
My favorite part of this bag is that it comes with little feet on the bottom, so it never has to touch the ground, which is something really important to me, considering your bags can pick up all sorts of gross things in restrooms, and there won't always be a hook for you to hang it on. It's got great pocket sizes and room, but again, you don't feel like you're carrying this massive, clunky bag and it sits close to your back. B is now over a year and it still looks brand new. Well worth the investment.
2. Bum Brush
This has got to be my favorite invention ever. We literally have at least 6 of these in different places of the house that we constantly use, plus one in my diaper bag. Due to my unfortunate OCD tendencies, I cannot handle the texture of diaper cream under my nails. It literally makes my skin crawl, and since it's so oily, it's not easy to wash off. I know many women hate having diaper cream all over their hands every time they change a diaper. With this brush, you apply your diaper cream of choice in one swipe. ONE SWIPE. It applies it thick and even, so you don't have to fiddle around with trying to get the cream in all the right places. Plus, it has an awesome suction cup bottom where you can fasten it to your dresser when not in use, so it doesn't knock over. Even better? Buying a bum brush is supporting a small business, and it's under $10. A win all around.
3. Aquaphor
Speaking of diaper cream, this one is our holy grail. The big canisters are kinda expensive (around $16-17) but it lasts forever, and a little goes a long way. I've seen this stuff heal a rash overnight. B has sensitive skin and after applying it, his irritation will be completely gone in anywhere from 30 mins to a couple of hours (depending on how bad it is). It is truly a miracle worker. We also use it after his baths to keep his skin soft.
4. Wyze Camera
If you were considering spending $250-$400 on a Nest Camera, don't you dare! Take that off your registry and out of your cart immediately. In fact, take any other camera you were considering off your list. This $20 camera (yes, you read that right), has a picture quality that is literally compatible with the Nest. It has night vision, sound and motion detection, zoom, you can speak through the camera, record, playback video clips, and you can access the camera anywhere from their app as long as it's plugged in and connected to the Wifi.
Oh, and speaking of that whole Wifi thing (I know people get really freaked about people hacking your baby camera, and rightfully so), you have to connect your camera to the WiFi by scanning a QR code located on the camera itself. Each camera has a unique QR code. You can't connect the camera to the wifi without it, so rest assured it would be close to impossible for someone to hack through it, unless they got ahold of the QR code and camera themselves and physically scanned it.
5. Gathre Mat
Oooooh ladies and gents, this mat has got to be the best money I have ever spent. Made from bonded leather, this mat is neutral and versatile. I bought their highchair mat, so it's the perfect size to go under a highchair to keep food from getting all over the floor. You can use it for a picnic, as a beach blanket, to play with legos or car tracks on; the list is endless, and they have so many different sizes, colors and patterns to choose from.
The best part about it is that it's stain resistant, and you just wipe it down! We personally love to use Clorox wipes. Wait for it to go on sale before splurging, as it's a little pricey, but so.worth.it. We constantly talk about how it's the best money we have ever spent and we've already gotten our money's worth. In fact, I want to buy another solely for the beach!
6. Little Unicorn Swaddles
Little Unicorn has amazing quality textiles for babies in gorgeous prints. B's whole room is centered around their planetary pattern. I have it as his crib sheet, changing pad cover, and in the swaddle. Their swaddle is my favorite because it's the perfect weight. It has some heaviness to it, but it's not too heavy for the summer. It's muslin so it's breathable, and I used it for him when he was a newborn living in the South Carolina summer heat. We live in Florida now and I still use it during the summer when it's cold in buildings. I carry it with me everywhere. I have so many swaddles and this is the only one I use.
The pattern has held up amazingly well despite how many times I've washed it. If you can only buy one swaddle, this is the one to buy. It's a little pricey for one swaddle compared to being able to buy a set for cheaper at let's say, Target for example, but the quality is better than my Target swaddles and I think it's better than my aden + adais swaddles (which are supposed to be the holy grail swaddles).
7. Ikea High Chair
Some parents spend hundreds of dollars on fancy high chairs and I'm just like omg whyyyyy. Unless you have a specific need, there really isn't a reason. They literally destroy those seats 3x a day. Kids are messy eaters. Especially babies and toddlers who find pure joy in tossing their food everywhere and smearing it across themselves and any surface they can get their hands on. I say every day how thankful I am I didn't spend more than $20 on a highchair through gritted teeth as I scrub it down for the third time that day. I'm not worried about it getting beat up because it was only $20, and you can take a hose to it if you need to. It's stained and scratched because our kid is literally CRAZY. He is so rough on things! And it's no biggie because it was so cheap but great quality and it serves its purpose.
8. Munchkin's Arm & Hammer Bags
These puppies are my ultimate #momhack. They are plastic diaper bags scented with baking soda to help mask that nasty dirty diaper smell. They come on a roll, and I keep them in both my diaper bag and in B's dresser. They are perfect for those moments where you can't throw away a diaper and you need to carry it until you can get to a trashcan (which will happen more than you think it will). They are strong, they don't leak, and you can't smell the poopy diaper once it's tied up in one of these. I keep them in B's dresser for extra stinky diapers so they don't smell up our trash.
9. BabyGanics Sunscreen + Hand Sanitizer
BabyGanics has an incredible line of eco-friendly products, but my favorites are their sunscreen and hand sanitizer. Make no mistake, their sunscreen doesn't rub in well and you child will look like the ghost of Christmas's past, BUT your child will not burn with this stuff on, I promise you. We have used it in Hawaii, Arizona, South Carolina and of course, Florida. He has never once burned when he had this stuff on. It doesn't wipe off in water either. A full day of swimming and I will still see it on his head, which means I don't have to worry about re-applying either (and I never have had to!).
As for their hand sanitizer, it's alcohol free but still kills bacteria and germs, which means it's perfect for little baby hands that are prone to ending up in the mouth, and it doesn't have that awful usual hand-sanitizer smell. In fact, they have a mandarin scent that's my personal favorite.
10. Room Essential's Soft Sided Laundry Basket
Okay, so this *technically* isn't a baby product, but I promise you, it will be the best $8 you'll ever spend as a mom. This bag is roomy, and perfect for everything beyond laundry. A picnic in the park? Check. Getting all of your groceries in one load? Check. A pool or beach trip? Check. Storing kids' toys or craft supplies? Check. Heck, I've even used this thing to carry over a three course dinner to my neighbors!
It's durable, but it folds up nicely. It's great for travel (we use it to carry all of those loose "extras", electronics, blankets, and snacks). I use this thing pretty much every day, and I've put it through the ringer. It's yet to give up on me, or even come close. Super durable, and it comes in two fun prints. BUY IT. You will not regret it, and it's $100 cheaper than the ever popular Costco Wagon.
GIVEAWAY DETAILS!
Now for the fun stuff! I've teamed up with BabyBum Company who were kind enough to give away one of their diaper clutches, a full size bum brush and a mini bum brush to one lucky winner!!! Plus, you'll receive a $25 visa gift card and a teething ring. How cool is that?!
In order for you to enter the giveaway, you must have an Instagram account. My most recent Instagram post gives you all the dets but here they are again:
You must be following @genuinelybex and @bumco on Instagram
Like the photo and tag a bestie in the comments section of the original Instagram post
Extra Entry: Commenting on this blog post with your favorite baby product!
Good luck! The giveaway runs from Tuesday, September 24-Thursday September 26th at 11:59pm EST. Winner will be announced on Friday, September 27th at 5pm EST via my Instagram Stories. Must be 18 years or older and residing in the U.S. Giveaway is in no way sponsored by or affiliated with Instagram.