VEGETARIAN + VEGAN!
Happy National Homemade Soup Day! It seems like a silly holiday to celebrate, but little did you know, I grew up eating soup every.freaking.day. I would come home from school, call my mom to tell her about my day, and then make myself a bowl of soup. I literally did this through college until I had a baby!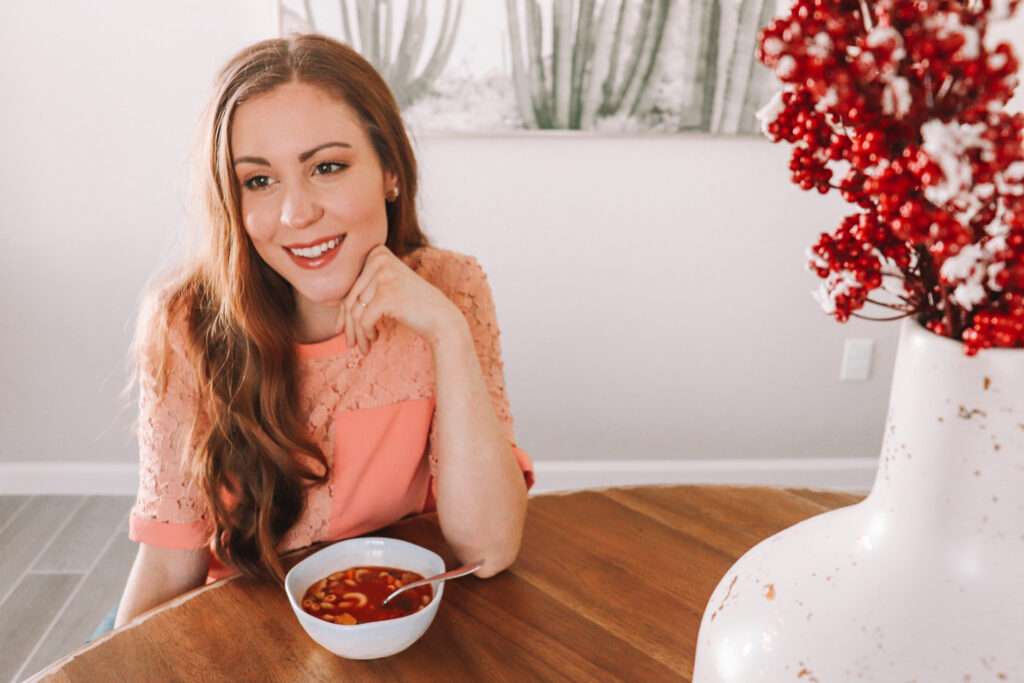 I might not eat soup daily any more, but it still hold a special place in my heart and I will always love it! (And I always have a few different kinds on hand).
I've spent many years alongside my mom in the kitchen, as we experimented with different flavors to create a soup we love. They are some of my fondest memories and I hope that Briggs feels the same way one day!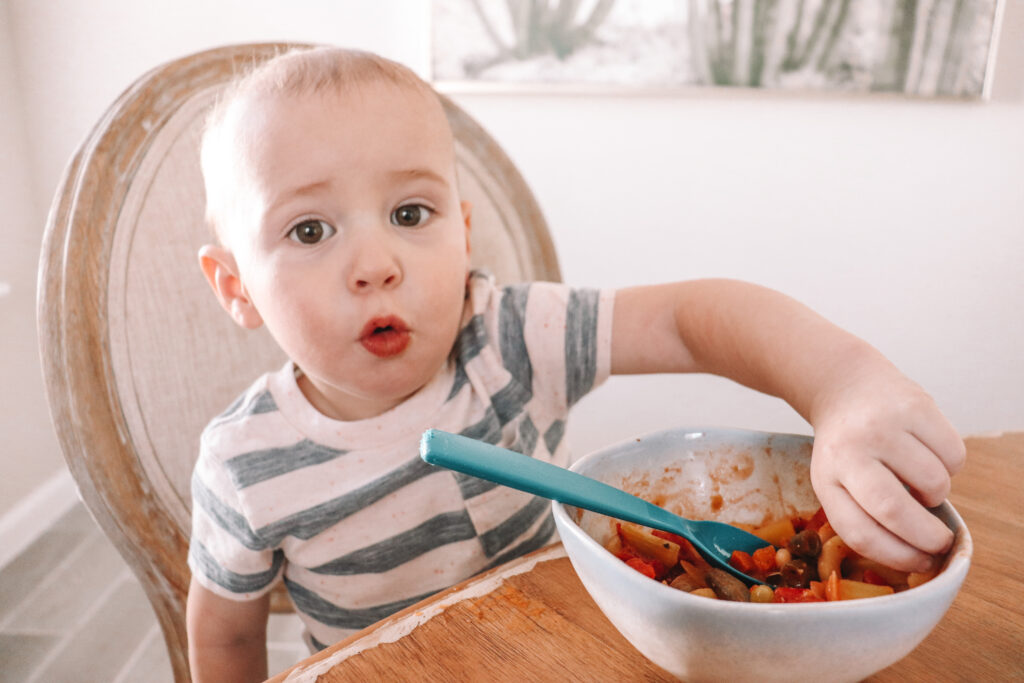 The greatest aspect about vegetable soup is that it is so versatile. I'm not a big meat eater, so I don't add any ground beef, but if you could if you need a little extra protein. You can also sub any vegetables you'd like or nix any you don't. A couple of great vegetables you can add are: zucchini, spinach, and peppers.
I also like to make my soups very hearty (so not a lot of broth), and if you like a more… well, soupy consistency, then add more vegetable broth!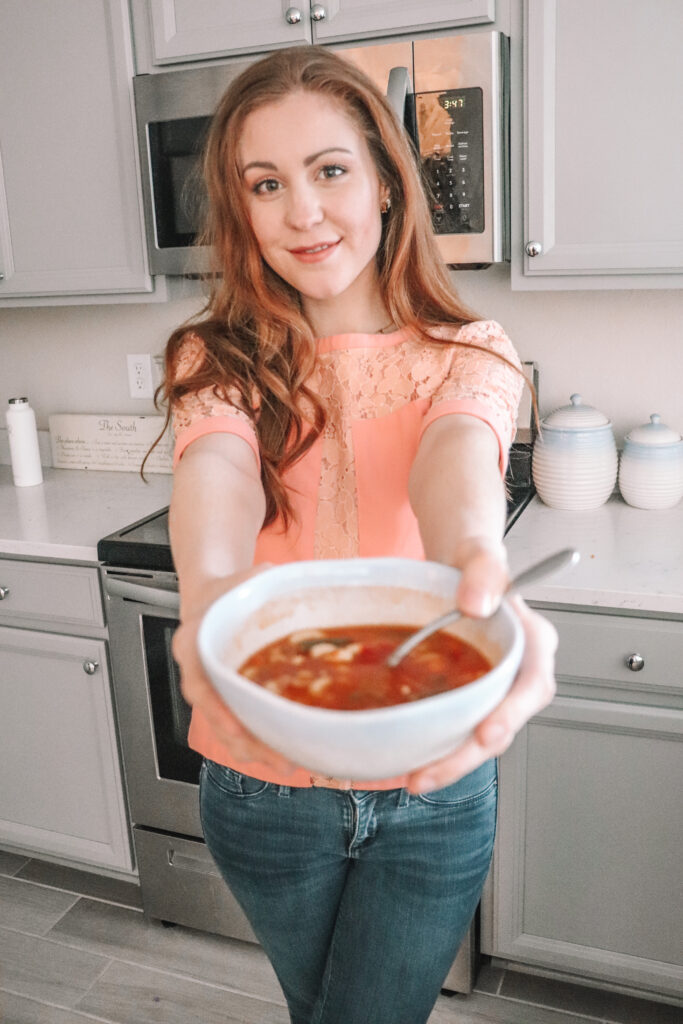 Flavor is in the mouth of the beholder. This recipe more earthy. But, again, you can adjust to your preferences! If you want a kick-butt flavor that'll make you lick your lips, add some cayenne pepper, garlic powder, and spicy V8 juice. You can also add spicy meat like chorizo!
The secret ingredient to create a soup with more depth is worcestershire sauce. Weird, I know, but it adds an unmatchably, rich flavor. Don't forget to add it!
This soup takes a decent amount of prep work (if you're a slow dicer like me) but other than that, you just throw it in the pot and let it do its thang. There's nothing better than a one pot dinner. I'm all about easy these days. Briggs' attention span is about on par with a fruit fly.
Briggs had so much fun eating and playing with the soup. He was a total mess afterwards and I wouldn't have it any other way! There's nothing better than a messy kitchen + filled bellies. I love that he's taking after his mama and continuing this tradition.
One more note and I'll let ya go: this recipe can easily be doubled! Just double everything listed to make enough for a small country. You'll have leftovers for days (it's even better re-heated- and I don't eat leftovers!) or you can freeze some for later. Don't freeze for longer than a month, though!
Vegetable Soup
A hearty soup that will fill you up on warm days. Best served with warm, sourdough bread. Make ahead and freeze or serve immediately!
Ingredients
1/2

yellow onion

diced

2

stalks of celery

diced

1

medium Yukon Gold Potato

diced

1/2

cup

mixed vegetables

frozen

4

oz

cannelini beans

16

oz

diced tomatoes

italian style, with juices

1/2

tbsp

butter

sub olive oil for less fat or vegan

2

cloves

fresh garlic

minced

3

tbsp

sun dried tomatoes

1/4

cup

elbow macaroni

32-48

oz

vegetable broth

3/4

tbsp

sea salt

1/2

tbsp

cracked black pepper

2

bay leaves

1

tbsp

worcestershire

sauce

1

tsp

italian seasoning

as needed
Instructions
Set stove to medium heat; add butter to your pan and wait for it to melt. Once melted, add onions and sauté for approximately 3 minutes before adding garlic, celery and dried tomatoes. Continue to sauté for another 2 minutes.

Increase heat to medium high; add can of diced tomatoes with juices and let it come to a boil. Wait for it to thicken up, before adding your mixed vegetables. Simmer for approximately 5 minutes.

Add your 32 oz of vegetable broth, macaroni, diced potatoes, bay leaves, worcestershire sauce, beans, and spices to your pot. Bring to a boil, stirring frequently.

Reduce heat to low. Simmer for approximately 25-30 minutes, stirring frequently. Once it thickens up, add more broth and spices as needed. Remove bay leaves and toss.

Serve warm with a dense bread for optimal flavor and enjoyment!
Notes
For more flavor:
-add 1/2 tsp of ginger or garlic powder
-add a splash of V8 juice or tomato paste
I hope you enjoy this recipe as much as our family does. Let me know what adjustments you made to personalize your vegetable soup!
Much love,
Bex