I'm not gonna lie, I wasn't a fan of the idea of IKEA for a long time. I thought it was a fun store to go to for the experience, but I'm a pretty staunch advocate of investing in furniture that is high quality. AKA don't buy "fast furniture", and that's pretty much exactly what IKEA's business model is.
However, after having a toddler that's extremely destructive and hard on my house, I have become a believer. Now, this doesn't mean I'm ready to put their cabinets in my kitchen, but I have come to appreciate some of their smaller-scale furniture and decor to add personal touches to my place of living.
Here are my top 10 picks to elevate your space from house to home without breaking your budget: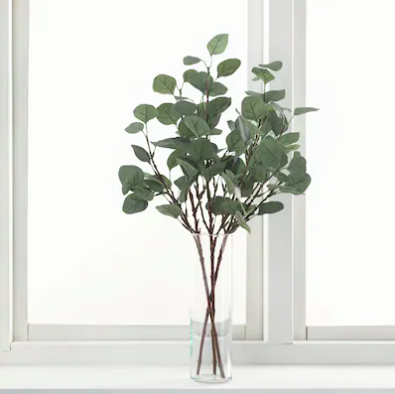 Eucalyptus Stems
A holy tree for the Aboriginals, it is believed the eucalyptus has the power to dissipate negative energy. Therefore, the eucalyptus is known to be a symbol of strength, and is excellent to have in your home. While these stems are artificial, what they represent make them a perfect addition to virtually any space.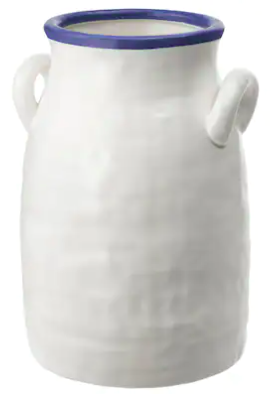 Textured Vases
These battered, stone vases will give you the look of Anthropologie without breaking the bank, and their classic color combination make them timeless.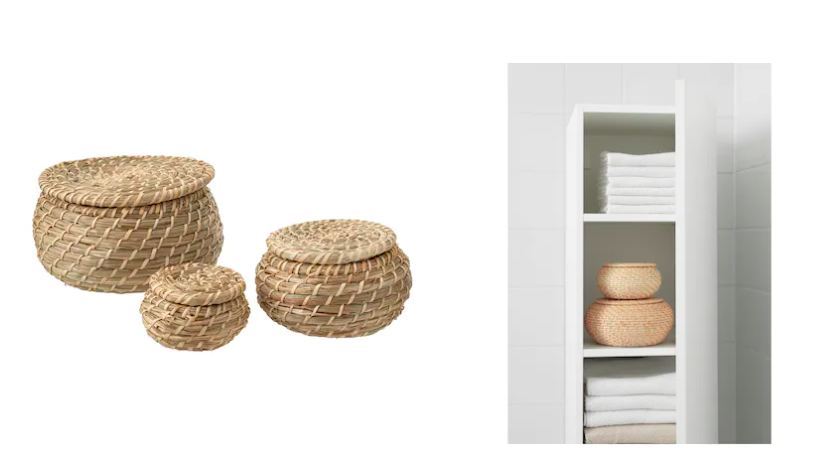 Not only are these a great deal ($12.99 for a set of 3?! Yes please!), they make great storage containers for linen closets. Think washcloths, hand towels, and cotton balls. Or, you can break this set up and use the medium sized container for an entryway table and one of the others to store a candle. The possibilities are endless.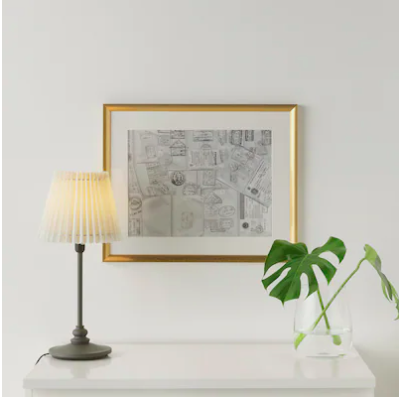 Matted Gold Frames
If you've been dreaming of a gallery wall but didn't know how to accomplish what these cute influencers are doing without spending hundreds of dollars, look no farther. These frames are a perfect size to make those dreams a reality and the matted look makes it look professionally installed.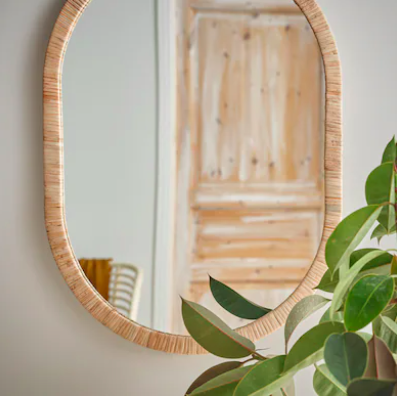 Oblong Rattan Mirror
Wow, talk about a statement piece and at $40? Take my money and don't ask questions. This rounded mirror using natural textiles will elevate any space you put it in. It easily looks to be a $150-200 piece. Replace your large bathroom mirror with this, put it above your mantel, or hang it in your entryway. It's a focal point so make sure it has its opportunity to shine.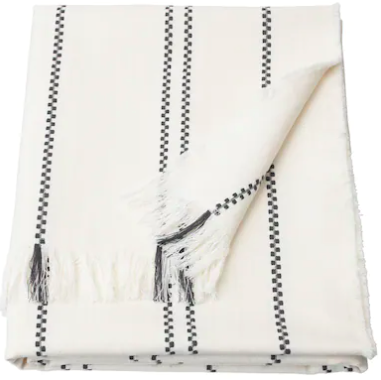 Minimalistic Throw Blanket
Every good home needs a beautiful throw blanket to make the space more inviting and less sterile. This trendy pattern paired with frayed edging makes this throw blanket look way more expensive than it really is. Just like the name states, throw it over an arm chair, or put it across a guest bed to let your friends know they are welcome to get comfortable.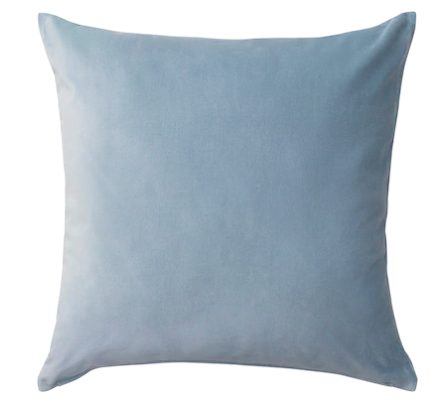 Velvet Cushion Covers
Did I mention it comes in 13 different colors? I picked this blue to feature because it's a soft, cool tone that is relaxing. Your guests want to feel "at home" in your space, and this calming color helps set that mood perfectly.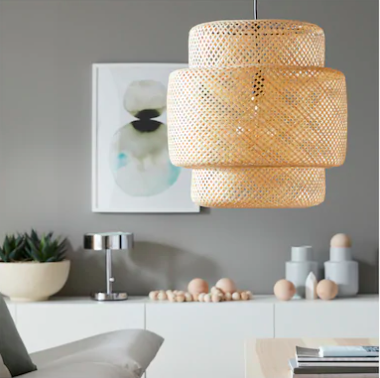 Bamboo Pendant Light
Another statement piece, this light will grab your guests' attention. I can attest to this because we have it in our playroom and get compliments on it all the time. It's such good quality, it looks like a custom piece. Have you ever heard the phrase, "the devil's in the details"? It's true, especially with interior decorating. If you look at any of your inspo pictures, you will see that small details (think knobs, light fixtures, molding, etc) are what makes or breaks a space. One of the easiest ways to freshen up your home is through fixtures.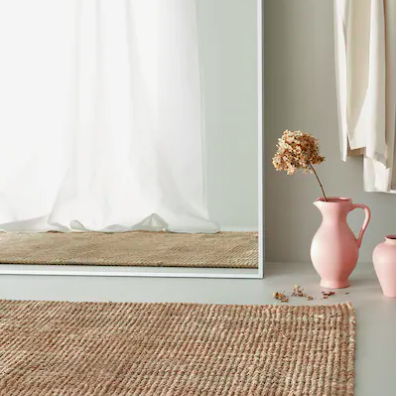 Jute Rug
Natural and handmade, this rug is perfect as a runner in an entryway, or positioned under your couch. The neutral coloring makes it easy to switch decor with seasons or tastes without having to worry about coordination.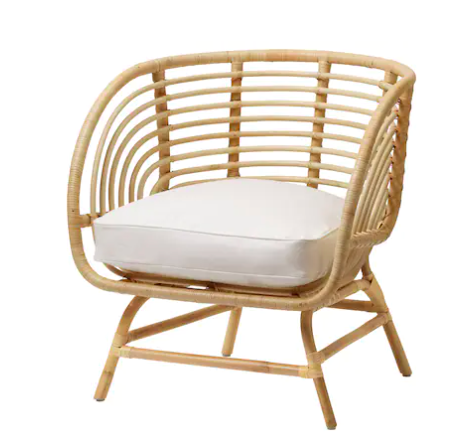 Rattan Arm Chair
Probably my favorite piece (and the most expensive), this arm chair is perfect for a nook, living room, or child's room. Personally, I would put it in a nook with a side table featuring a vase and stems stacked on a book, with a pillow, throw blanket, and maybe a basket at the feet.
I hope you enjoyed my picks! Let me know what your favorites were in the comments below. And if I'm missing any products that you think should be listed, shoot me a message. Happy Sunday!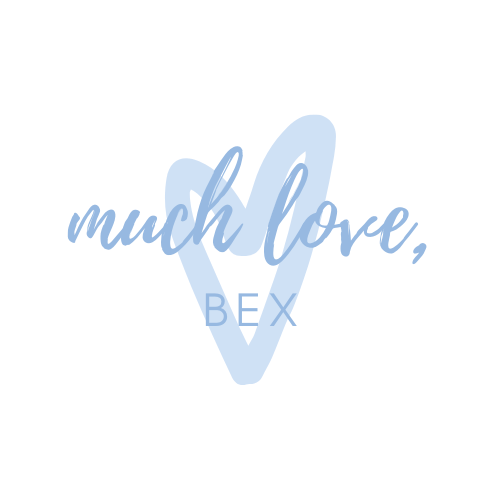 All pictures listed in this post are owned and provided by IKEA US.