Because there's nothing worse than dry meat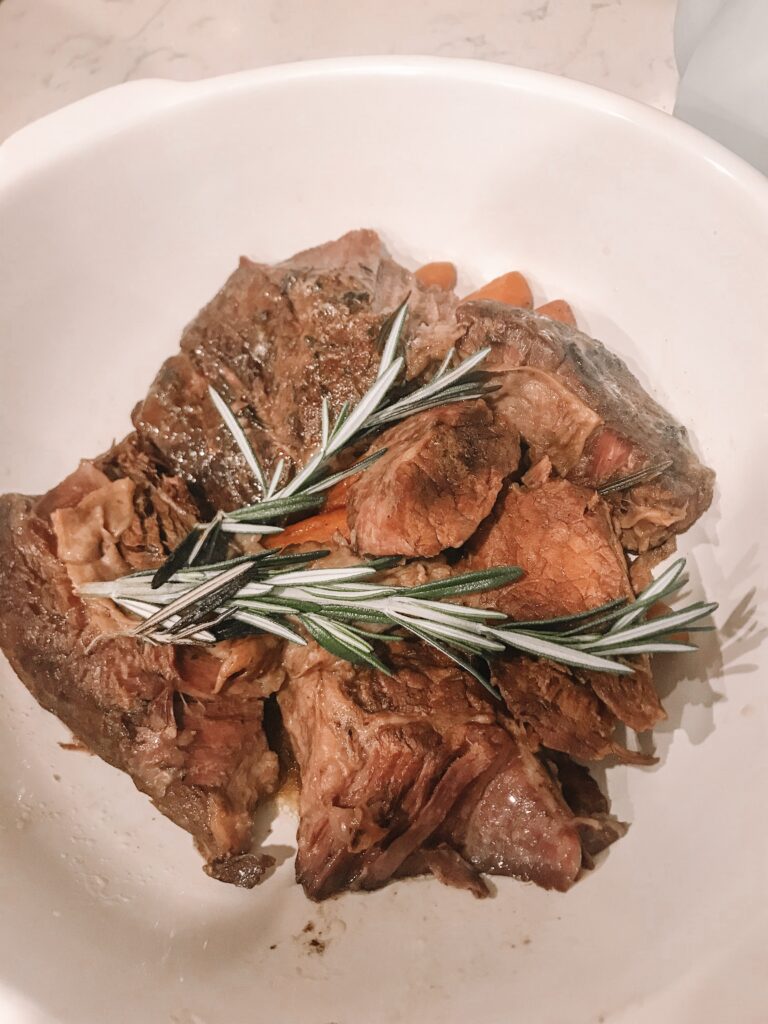 That's it. I am self-proclaiming this recipe as the BEST roast you'll ever eat. I know, that's a tall order, big shoes to fill and everyone on Pinterest claims their recipe is the best. But I can guarantee mine is better!
It combines the best ingredients from a few recipes, and the result is a flavorful, juicy roast that leaves your mouth watering at the smell, and your kids begging for more.
The total time for this recipe is 8 hours in the ever- so- faithful crockpot. You want to cook this meat slow, or you run the risk of it drying out. And we all know roasts are fickle meats. They tend to dry easily. Some recipes have you searing it before throwing it in the crock to try to prevent this. You don't need to do that with mine! Less mess? Say no more, right?
First thing you're gonna wanna do (poor english, I know) is throw your carrots in the bottom of the crockpot. Now, we like our carrots a little underdone (with a lil crunch to 'em!) but if that's not your thing, pop them in the microwave for a minute or so with some butter before putting them in the crock.
Get your roast out, drain the excess liquid, and stick it on top of the carrots. Make sure the lean portion is face down on the carrots. So stick it fat side up! Next, grab your stick of butter and cut it into 8 (1 Tb/each) chunks. Stick a few on the roast, put some on the sides, and on the carrots. I try to distribute them evenly.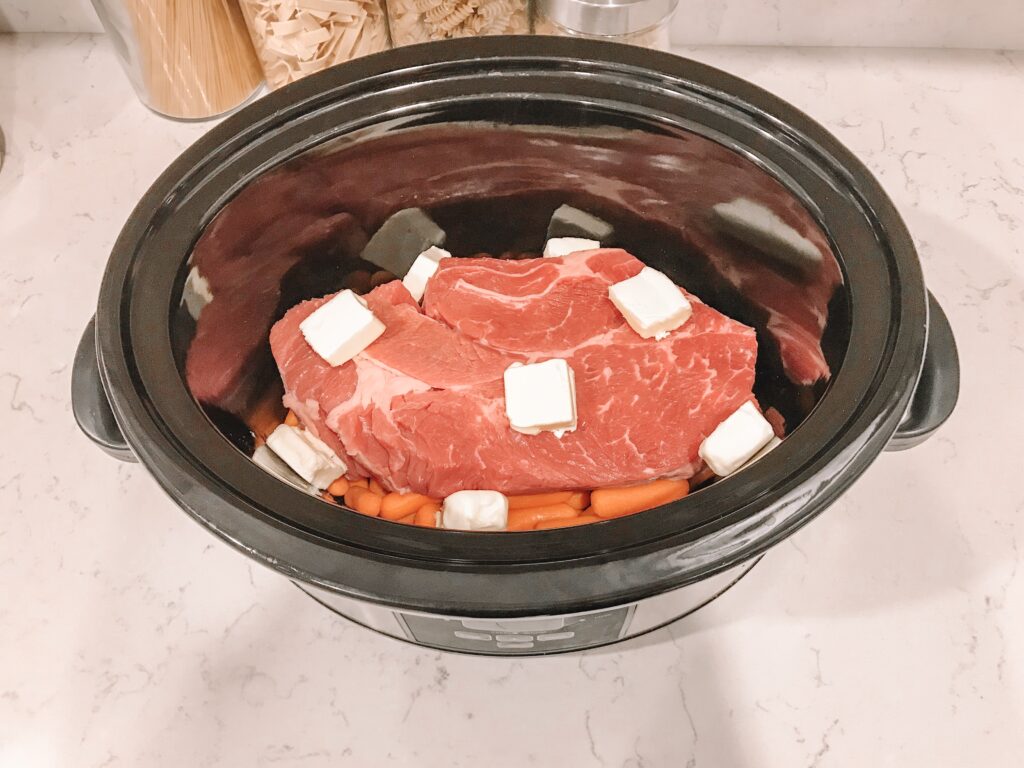 I add my beef broth (if you would like to lower the sodium, you can sub the broth for water), pouring it around the sides/on the carrots, then the pepperoncini peppers. Make sure to distribute them evenly!
I have found that 7 peppers is the perfect amount of spice for us, but it can be a little too much for some of you. If you're sensitive to spicy foods, knock it down to 4-5 peppers. Note: The carrots have tendency to soak up the spice!
Just a couple more toppings and you're done! Top your roast with the ranch dressing packet and au jus gravy packets. (You can skip the au jus if you want to lower your sodium, but it will definitely be lacking in flavor.) Don't forget to add a splash of sherry.
Finally, put a few sprigs of fresh rosemary. It's so important you don't use dried rosemary because it just isn't the same. Sorry! You want that hint of herbs and you won't get it without the fresh stuff.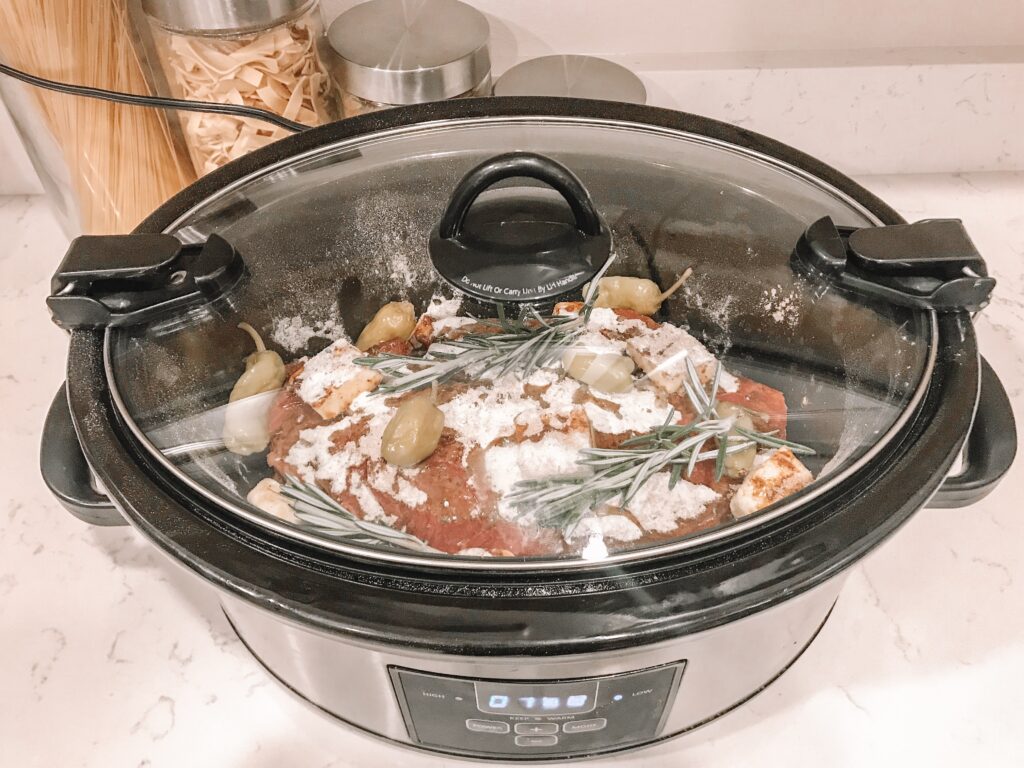 I understand this is close to the Mississippi Pot Roast recipe, but the additions I have made really make a HUGE difference in the flavor and tenderness.
Once the 8 hours is up, I add a bit of cornstarch to the juices to thicken up the gravy, and use it to serve with our mashed potatoes. The leftovers are always gone in a day!
Ingredients:
2.5-3 lb pot roast
16 oz baby carrots
1 stick of unsalted butter, cut into 8, Tb chunks
7 pepperoncini peppers
1/4 cup beef broth
1 packet of Ranch Dressing seasoning mix
1 packet of Au Jus gravy mix
1 oz sprigs of fresh rosemary (approx 4-5 sprigs)
2 Tb of Sherry
Directions:
Pour carrots into bottom of crockpot
Place roast on top of carrots, fat side up
Place chunks of butter on roast, and on carrots
Add beef broth to sides, pouring over carrots
Top roast and carrots with pepperoncini peppers. Distribute evenly!
Sprinkle ranch dressing and au jus gravy packets over the roast
Pour sherry over roast and carrots
Place sprigs of rosemary on top of roast and carrots
Turn crockpot on low and cook for 8 hours
Add cornstarch to thicken juices, if needed