*trigger warning* This blog post will talk in depth about the ugly side of PP recovery and mental illness.
I'm not gonna lie, my PP recovery was pretty easy. Sure, no one enjoys sitting on an ice pack and spraying witchhazel on your vajayjay 4x a day or not being able to control your pee (uhm no one warned me about that and I have a bone to pick with alllll of you) but other than that, I was good. I managed. I knew I was lucky. I knew so many women tore hole to hole, had a major surgery to recover from, had a traumatic birth experience… the list goes on.
I had a bit of the baby blues, like many. Breastfeeding was… hard. (That's a whole separate post). But I was getting by. I thought, "you know what? I can do this!" And then everything changed around 8 weeks.
Call it what you want, but the result is that my "baby blues" slowly turned into depression. My anxiety got so much worse. And my intrusive thoughts were bombarding me every chance they got. The lack of sleep made me rageful? Is that a word? No? Well it is now.
I had gone to my 6 week checkup with the OB. You know, the one where they give you a 10 question survey to "identify" if you have depression. The problem is, that survey is completely outdated and a slap in the face to those who truly struggle with depression. Because all it basically asks is "are you crying all the time? have you contemplated suicide? do you lay in bed all day?"
No, no, and no. I cry a lot because I'm tired but I can't lay in bed all day, even though I need to. I've got a newborn to take care of. So as you can guess, I passed with flying colors. Depression is so much more than laying in bed, crying all day. Sure, it can be that for some, but most of the time, it's no motivation to do the things you previously loved to do. Finding no joy in what used to bring you happiness. It can be hopelessness, among many others.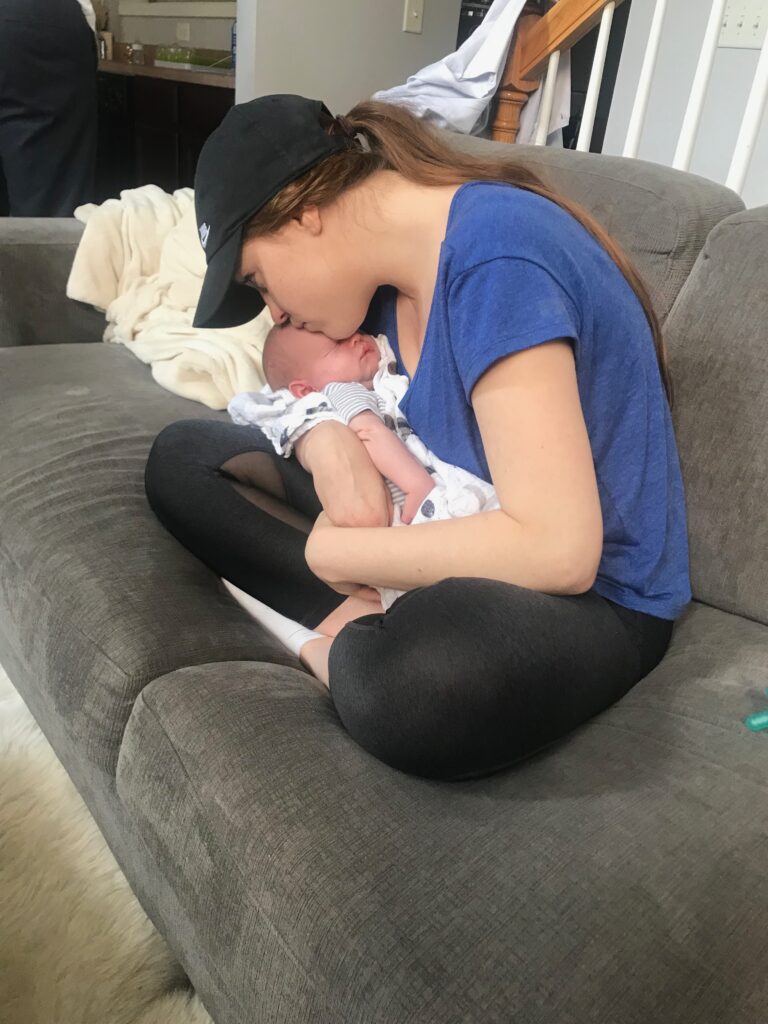 So, I struggled for 9 months. 9 MONTHS. Before I hit such a low point that I was afraid of myself, and scared of what my baby would come to know as his mother. I was in a new state, with no friends or family near me. I had NO ONE. It took me a month to work up the courage to call up a brand new doctor and be seen. And then I rescheduled my appointment because I was having so much anxiety.
I'm doing better now, thanks to first and foremost, the miracle of modern medicine (aka Zoloft) and a wonderful PCP who listened to me without judgement and got me the help that I desperately needed.
But, I'm frustrated and quite frankly, angry, at my OB for the lack of care I experienced. Not a single person sat me down and tried to have an open conversation with me to see how I was doing. No one warned me that my lifetime history with anxiety and OCD tendencies would predispose me to PPD and PPA. And not a single person seemed to care about anything beyond suicidal depression. Of course, that is beyond important, but I was experiencing so much anxiety, I couldn't bring myself to leave the house. My intrusive thoughts would come at all hours of the day and night. I would pick up a knife to cut a vegetable and picture myself dropping it on my baby and killing him. Violent, graphic images filled my head of my sweet, innocent baby. I felt like I couldn't keep my baby safe. I was afraid to get into the car, out of fear of killing him in a car accident. I was having increased panic attacks. I didn't want to go in public. I was picturing my baby dying in such horrible ways due to me.
And then there was the rage. I found out pretty early that sleep was my breaking point. We all have ours. And unfortunately, I had a baby that is probably one of (if not the) worst sleepers you've ever heard of. It made me a whole 'nother person. I had uncontrollable anger. It was this monster that was living inside me that would burst out at the most unsuspecting times, and it was beyond frightening.
So, I continued to suffer. Because I had asked my OB back in Charlotte if this was normal. And they said it was. They accredited it to the hormones and baby blues. But no one could tell me when that stopped being normal, so I accepted that this was just another part of motherhood and tried to survive for 9 months.
I'm telling you all this now because in those 9 months, I spent a heck of a lot of time googling and trying to figure out if postpartum rage was normal, along with postpartum anxiety and intrusive thoughts. And you know what I found? Almost nothing. Yet, so many women were silently struggling with it every day. And none of us had any resources to turn to. I am so grateful that we have brought emphasis on mental health and especially postpartum depression in recent years. But there isn't enough light cast on postpartum anxiety, and especially postpartum rage (the symptom no one ever talks about!)
The sooner we put this out in the open, the sooner we can get help for the thousands of women struggling with it.
Much love.