Part Two
Like I said in my last post, my love for this city is overwhelming. My only regret is that we didn't have more time here, but Hurricane Dorian forced us to leave early (Charleston floods easily… and it had already started when we were there!).
We started off Sunday by enjoying breakfast in bed. It was so nice to wake up on our own, and not to the sound of our raging toddler for once! We definitely took our time getting ready (it's amazing how the simple things can bring you so much joy… not having responsibilities was amazing!).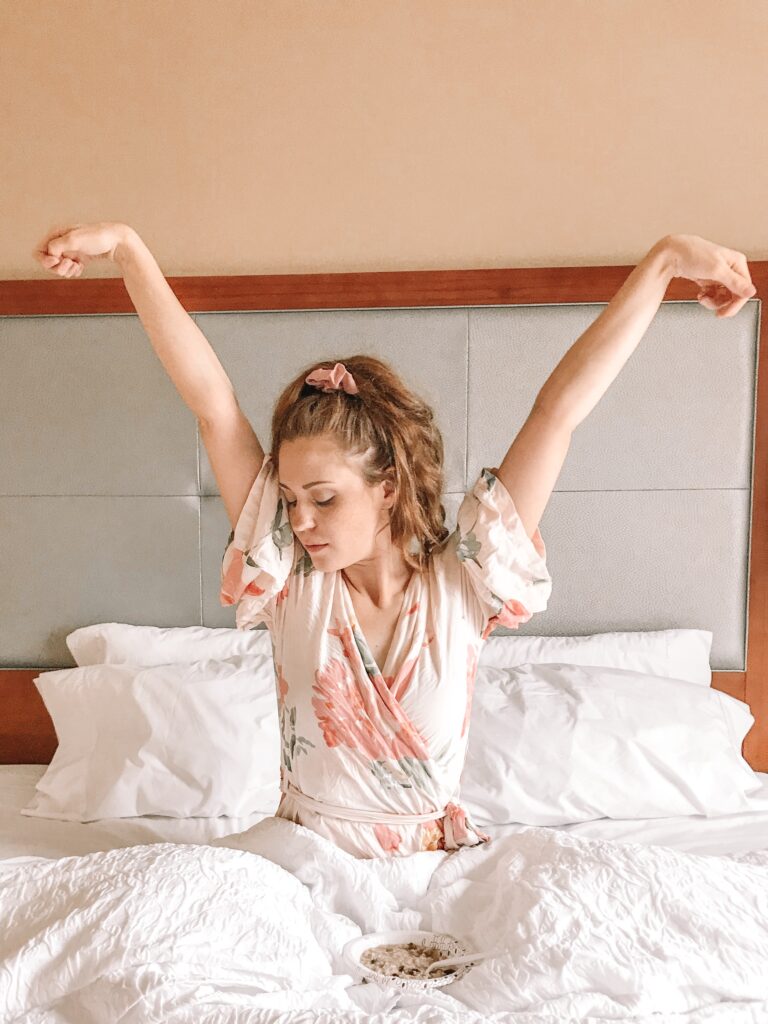 After we packed up, we headed to my favorite spot of the entire trip: Cypress Gardens. Oh my goodness, this park is straight out of a movie! You know that super romantic part of The Notebook where Noah rows Allie out in that swamp and they are surrounded by all of the birds? Yep, this is the exact place they filmed that scene and good gracious, photos DO NOT do it justice. It is truly one of the most beautiful places you will ever see in your entire life. It's a bit of a ways outside of Charleston, but it's more than worth the drive, and it's a "must do" when you're visiting.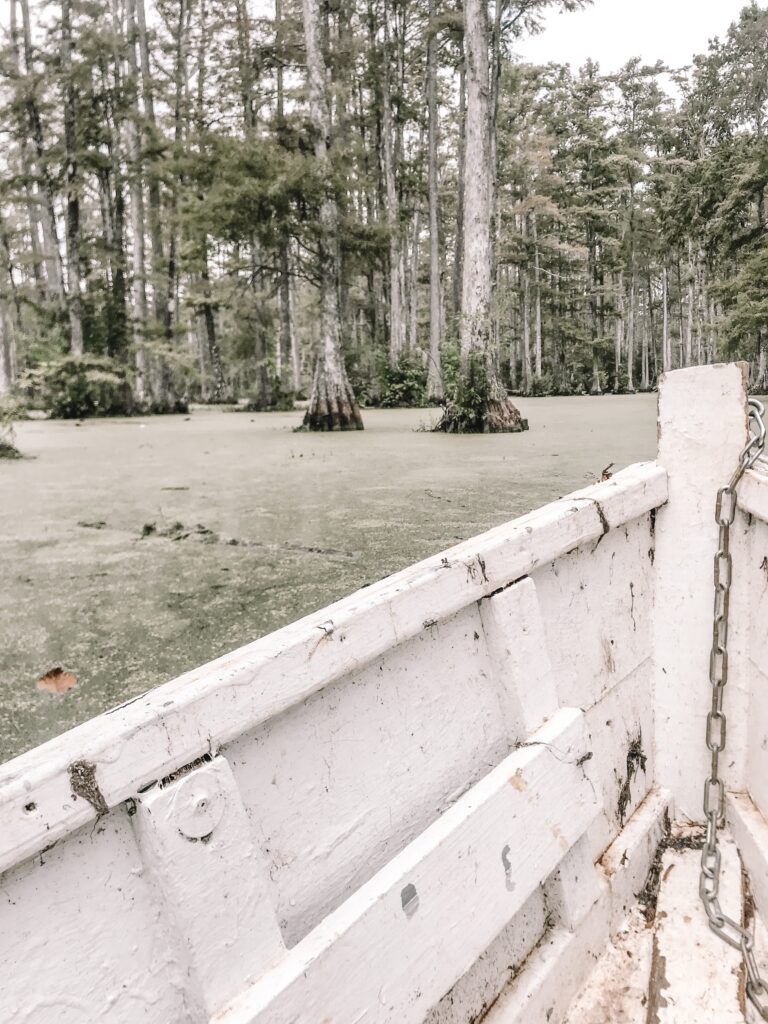 Let me set the scene: you're surrounded by hundreds of gators (big and small) in this swamp filled with cypress trees. It's pristine, quiet, and peaceful as you row your boat through blooming lily pads and spanish moss. The best part? It's only $10 to get in to the park. This is the one place you can see a true southern swamp in all of it's gorgeous glory, where it has been preserved and well taken care of. You will not get the chance to see wildlife in their natural habitat up close in this way, anywhere else in the area.
If you're too intimidated by the row boats, you can walk around the swamp on paved pathways, so don't worry! The pathways are very close to the swamp and also have benches for you to sit on and enjoy the scenery. The gators are used to people, so don't let that worry you too much.
This was a dream come true for me! Jesse was skeptical at first (he had his doubts!) but we can't stop talking about our time here. It was incredible to sit and marvel at the natural beauty this place holds. It will absolutely take your breath away!
Pro Tip: Skip Magnolia Plantation (famous for its gardens) to go here instead. It's cheaper, just as beautiful, and you get to be much more up close and personal at Cypress.
Once we got our fill at the gardens, we headed to Boone Hall Plantation so Jesse could experience his first southern plantation. We really debated on going to Drayton or Magnolia but ultimately, Boone won our favor and let me tell you why: it has beautiful grounds, it's cheaper than the other two, they have slave quarters, and you can do a house tour.
We couldn't have been happier with our decision, as Boone is home to the famous Oak Alley! Driving in, you are surrounded by magnificent oak trees lining each side of the path, and horses running alongside the fence. It was just magical. It wasn't too crowded, thankfully, and we were hungry, so we grabbed a quick lunch at their Butterfly Cafe on site (which was surprisingly, very good!).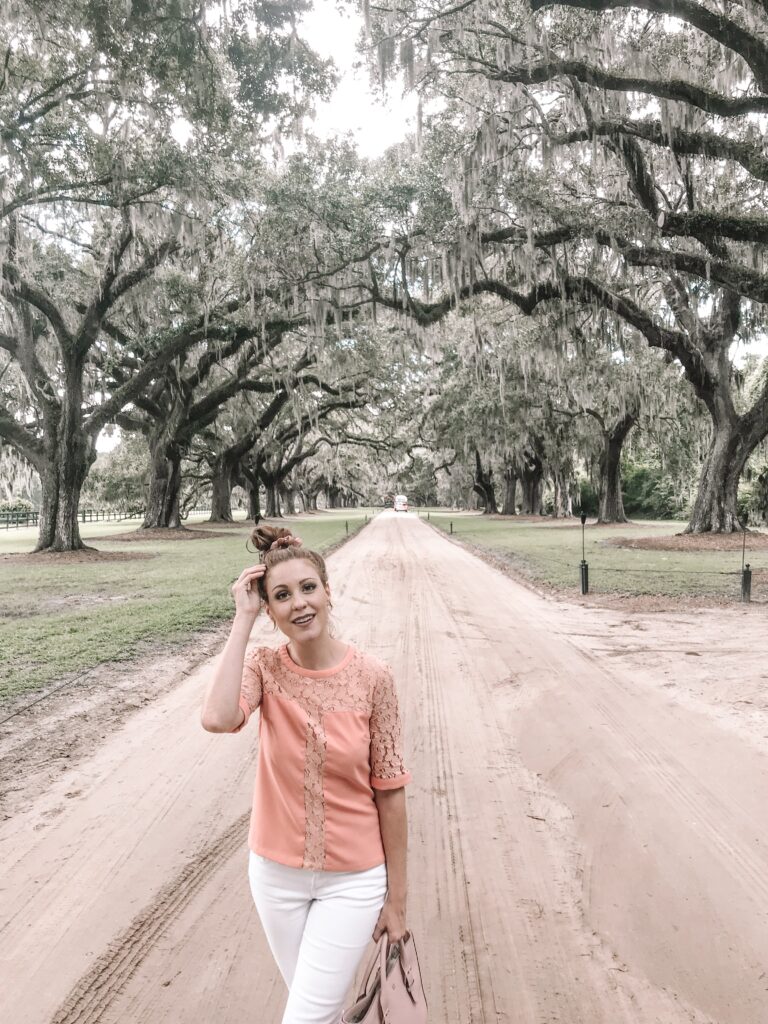 We signed up for a house tour, and explored the grounds for a while. I do want to mention that the house tour is limited in terms of what you're able to see. They only take you to a few rooms, because it still is a private residence, and they want to maintain the condition of the house. So, if it's important to you to have a full house tour, I would recommend Magnolia. If you would like a house tour of a house in its "original state" (aka not staged), Drayton is your girl!
We spent the bulk of our time exploring the slave quarters, which the family has done an excellent job not only preserving, but also with the displays. It was extremely sobering to read about the lives of slaves on the property, and it's something that should not be skipped, no matter how hard to swallow. I encourage you to take your time, reading the displays they have, as they offer incredible insight into that turbulent time in our nation's history.
Since the hurricane was getting pretty bad, we decided to head home and try to beat the evacuation traffic. I'm so sad we had to cut our trip short, but we are already planning our next trip. Until next time, Charleston!
Much love,
Bex